Being a student, Audible is one such platform that everyone will recommend you to try once. But, the only reason the majority of students remain untouched by this amazing platform is its price. And that's why, in today's post, we are going to talk about the Audible student discount.
Here, we will tell you how you can avail Audible student discount, along with the benefits of using this platform. So, let's jump straight to our today's hot topic.
What Is Audible?
Audible is an amazing platform for all those people who are fond of reading books and want to keep learning new things about this world. But the only catch is that you don't have to read all those books manually, but in fact, on Audible you can listen to them. Just choose the book you want to listen to, and sit back and start listening to the whole story.
Currently, you can enjoy listening to stories between more than 300,000 audiobooks present on Audible. You will find books of almost all genres that include famous novels, horror stories, murder mysteries, and many more. But, for enjoying all these amazing features of Audible, you must have an Audible subscription.
Because of its high subscription price, it can be hard for students to have a subscription. And it's the reason because of which Amazon has introduced Audible student discount.
An Audible student discount makes sure that you enjoy all the premium services of Audible at 30-50% less than the regular price.
1. Features And Benefits Of Audible Student Discount
It's very hard for a student to spend their money on buying the subscription of different platforms. And because of this reason, Amazon has come up with an Audible student discount so that students don't have to pay much from their pocket. Let's look at the benefits that you can get from this Student plan.
Enjoy Audible by paying 30% less price.
Exchange the content that you don't like.
A $10 Amazon promotional credit.
Cancel the subscription whenever you want.
2. Price & Eligibility
In general, there are two plans available for Audible subscription, i.e. Plus and Premium Plus. You can avail of the Plus plan by paying $7.95/month, whereas you can enjoy the benefits of the Premium Plus plan by paying $14.95/month.
However, the Audible student discount gives you that access to enjoying the premium Plus plan just by paying $9.95/month. If we talk about maths, then this discounted price will give you relief of almost $5/month.
Now, let's look at the eligibility criterion of availing of this amazing discounted offer.
If you already have an account on Audible, sorry my friend you can't enjoy the benefits of this offer. This discount plan is only for new users.
You must be a student studying in one of the registered US colleges or schools.
Your age should not be less than 16 years.
The most important thing, you must be having a UNiDAYS membership.
How To Get Audible Student Discount?
For grabbing the Audible student discount you must have an account on UNiDAYS. So make sure that you have a UNiDAYS account before you try to avail the Audible discount. Here are the steps that you need to follow for enjoying this discount.
Step 1: Open Google Chrome on your device, and go to the Audible Student page. Or you can even click this link, "Audible Student Page". After that click on "Verify your student status".
Step 2: Once you have clicked on verify option, you will be redirected to the "UNiDAYS sign-in page". Here you will have to login via your UNiDAYS account.
Step 3: Find a link to redeem Audible savings.
Step 4: Now, redeem the discounted plan on the Audible website by entering your details.
Step 5: Check out, and start to enjoy listening to your favorite books.
Along with the student discounted price, you will also get a $10 Amazon promotional credit that you can use to buy different products available on Amazon.
Crucial Information About Audible Student Plan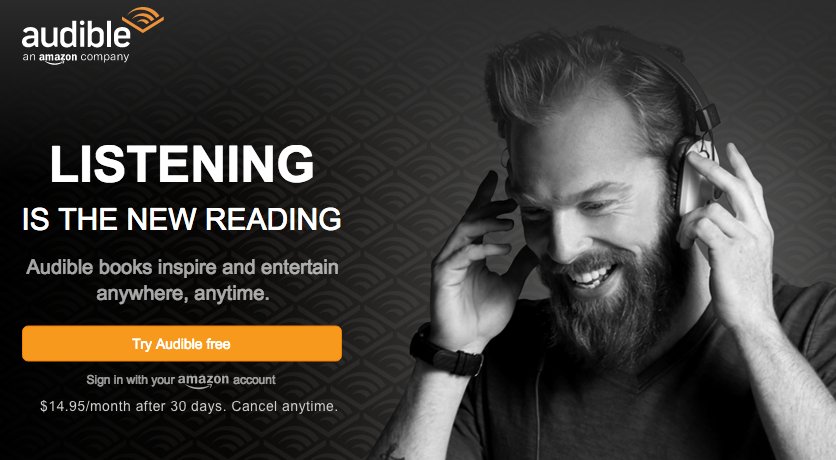 Once you have bought the Amazon student plan, there are few things that you should always have in your mind. Let's take a look at them.
If you want to continue with the Audible student plan, then you should keep re-verifying it after every 12 months.
If by any chance, you forgot to re-verify it after 12 months then the student plan will automatically switch to the normal Plus plan.
The Audible student discount is only valid till the date you haven't graduated, once Audible finds out that you have graduated from your college then it will automatically switch your student plan to the Plus plan.
The best thing about Audible is that you can pause your membership. Yes, if you are not going to use Audible for a certain number of days then instead of canceling the membership you can pause it.
As mentioned earlier, users who already have an account on Audible cant enjoy this discount offer. You must create a new account to enjoy this benefit.
Final Words
Audible is a very useful platform for students, it does not only bring students close to books but also helps in enhancing their knowledge. The best thing about Audible is that you can even adjust the narration speed, and we will recommend you to increase or decrease the narration speed as per your convenience.
So, with that, we have come to the end of this post. We hope this post will prove helpful to you. In any case, if you have any doubt or suggestion regarding this post please let us know in the comments section. We will try to clear all your doubts asap.