We often tend to store our invaluable data and files on Windows computers. But, what if it gets lost someday? Things could turn really worst and unimaginable. A great Backup Software for Windows can aid you during that. It can help you recover and restore your precious data while preventing panic.
If you have understood the importance of backing up important data, this post is specially written for you. Here, I will tell you about the 10 best Data Backup Software for Windows. I'll include the premium as well as free options. So, you'll find the right pick for you here.
Top 10 Backup Software for Windows Computers/Laptop
As we are moving towards a completely digital era, personal as well as business files and data is generally stored on our computer. These may include pictures, videos, music, documents, plans, spreadsheets, and many other things. Storing them on a computer is considered safe. However, the reality is a bit different. The data stored on your hard drive is safe but only until it hasn't crashed or lost.
There can be various scenarios when your hard drive containing precious data may crash. For example, when some ransomware attacks it and makes the contents corrupt. Or, you may simply lose or damage your PC like in a natural disaster, or if it is stolen. In such cases, if you'll have a good backup software active, you wouldn't worry much.
A Backup Software can help you to create a backup all of the essential files and other data, so you will never lose them. You can access and restore your data at any time. But, when you go looking for such tools, you'll meet with plenty of options. That's why I have shortlisted them for you. I will tell you about the 10 best ones here.
Altaro Office 365 Backup enables you to back up and restore all your Microsoft 365 / Office 365 mailboxes – emails, attachments, contacts, and calendars – and files stored within OneDrive and SharePoint through a centralized online console, on an annual subscription, allowing you to easily manage your backups.
This tool automatically backs them up and saves them to a secure cloud backup location on Altaro's Microsoft Azure infrastructure. This means you avoid the hassle and expense of setting up any local storage infrastructure or software to save backups. Storage is unlimited.
Provides various restore options.
Includes 24/7 lightning-fast support.
Highlights of the Tool:
Sleek and simple user interface.
24×7 Human support with <30 seconds response time.
The automatic backup feature saves you from the hassle.
Data is stored in a highly secure cloud location.
Affordable pricing.
If you are planning on buying the best backup software for your Windows computer, you can surely pick this.
Paragon Backup & Recovery is another brilliant and very useful backup software for computers. It allows you to back up the complete hard disk in the form of virtual drives while also enabling you to back up only certain partitions. These backups can be used to restore Windows machines in the case of data loss. They can also be used to restore virtual machines.
Paragon Backup & Recovery also allows you to back up specific files or folders to the recovery media. You can even compress the backup files or split them into smaller pieces.
Highlights of the Tool:
Supports full and custom backup.
Allows you to create a bootable media of the system.
Clean and simple UI.
The community edition of the software is free. Even the paid version is very affordable.
If you are looking for free backup software for your computer, you should definitely give it a chance.
Acronis True Image is another well-known high-rated data backup software. This tool enables you to take full images of disk drives while also scheduling flexible backups and taking incremental or differential backups. It stores your backed up data in a highly secure cloud and supports multi-device syncing.
They have also introduced the support of Office 365. So, you can backup and restore the emails using is and even block away malware intended to exploit your system. Another essential feature of this program is 'Acronis Survival Kit' that creates a backup media of all the key items including boot media, system partition, and everything else.
Highlights of the Tool:
Supports full PC image backup and restore.
Stores data on AES-256 encrypted cloud.
Supports automatic scheduling of backups
These features make it a deserving contender for the most needed backup software on your PC.
EaseUS Todo Backup is another great backup software for Windows that enables you back up not only files, folders, and drives but also upload them to popular clouds such as Google Drive, OneDrive, etc. You can even create disk images of drives or their partitions for limitless recovery.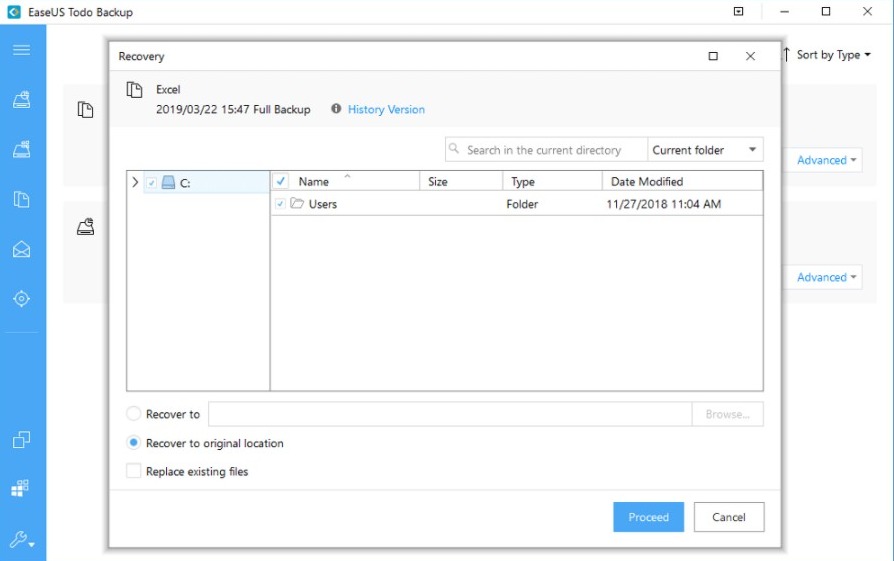 Highlights of the Tool:
Provides support for scheduled backups.
You can upload backups to the cloud.
Allows you to maintain password protection to protect data.
These features make it a great option worth considering.
AomeiTech Backupper is one more amazing data backup and restoration tool for Windows. It offers a disk partition manager that aids you with data protection and hard drive management. It is compatible with almost all Windows versions and provides you a free trial to test it.
Highlights of the Tool:
Allows plain file syncing and disk cloning.
Able to schedule backups automatically or manually.
Affordable pricing plans.
You should definitely give it a try.
NovaBackup PC is one pretty affordable and high rated backup software for PC. It provides all the essential features that one seeks in a backup and recovery tool. It comes in a free and a paid version. The free version provides 5 GB of secure cloud storage. This makes it an outstanding free backup software.
The premium version is worth every penny as it comes with added advantages. All in all, NovaBackup PC definitely deserves a try at least once.
Macrium Reflect is a brilliant backup software for PC that comes with a very long list of features. The best thing about it is that most of the features are available for free, and you can purchase the full version for all of them. The user interface of this software may seem a bit complex to some users, but once you understand it, you will be glad to use it.
It allows you to create a full backup image, set scheduled backups, and even clone a disk. Apart from these, it also provides certain minor as well as major features that a lot of tools lack.
FBackup is the next great backup software on our list. This tool comes with an option to switch between different wizard and advanced modes. Each one provides an easy way to create backups of files, folders, disks, and drives. You can also upload the created backups to secure clouds.
FBackup comes in a free and paid version. The free version may lack certain features but the paid version is pretty affordable to cover that up. The UI of this software is pretty basic and easy to understand.
Veeam Agent for Microsoft Windows is another great backup tool for Windows that is specifically more useful to backup Windows servers. It is also able to backup local drives for general users. The user interface of this tool is a highlight. It is stylish yet easy and simple to use.
It is widely preferred by businesses due to the great performance. If you are looking for a free and simple tool, this is one credible option to look at.
Cobian Backup is the ultimate backup software on our list. It is widely known as the most advanced free backup tool for Windows computers. The user interface of this program may seem a bit complicated to some users, but once you learn to get around with it, you will find it pretty simple.
Cobian Backup is a fast, free, and simple to use backup utility for all sorts of users. It comes with a long list of features that make it an outstanding choice.
Final Verdict
It is always great to back up your valuable data to avoid any uncomfortable circumstances. Great backup software can help you to do that. These are the 10 best Backup Software for Windows. You can choose any of these and start protecting your data, files, and documents. Although Windows now comes with a default backup utility, it lacks certain additional features that these tools provide.
That's all for this post. I hope you find it helpful. Feel free to use the comment box to share your opinions about it.