Social media applications have now become an inseparable part of our life. Facebook-owned Instagram is also one of them. Instagram users are addicted to it badly. These social media apps have some drawbacks too. These drawbacks are can be removed by the use of other applications. Instagram very often crops your pictures to their default resolution before uploading them. Today in this article we are going to discuss the no crop apps which can help you post your pictures without cropping.
So here is the list of the best No Crop Apps for Instageam.
Best No Crop Apps
Guys, here is the list of 8 best no crop apps for Instagram, and Whatsapp. Let's begin:-
1. INsquare Pic
Insquare Pic is one of the best-rated applications for no crop photo editor for Instagram. This is a powerful application and very easy to use application. You can also create high-quality collage and grid pictures with the help of this application.
Its no crop features allow you to resize your pictures fitting Perfect for Instagram and WhatsApp stories. In square pic posts high-quality images on Instagram with no crop. This application has a very user-friendly interface.
2. Square Quick
Square Quick is also termed as a funny editor owing to its comical texts and fun emojis. This application allows you to post your pictures. You can also design funny texts using this application. Square quickly provides you high-quality filters and unusual stickers too.
With the use of this application, you can export high-quality images to different social media platforms.
3. Square Size Fit
Square Size Fit is the application that majorly focuses on resizing the image for sharing on Instagram and Whatsapp. This application comprises over 300+ collage templates and a lot of filters too. You can also add personalized stickers of your own choice.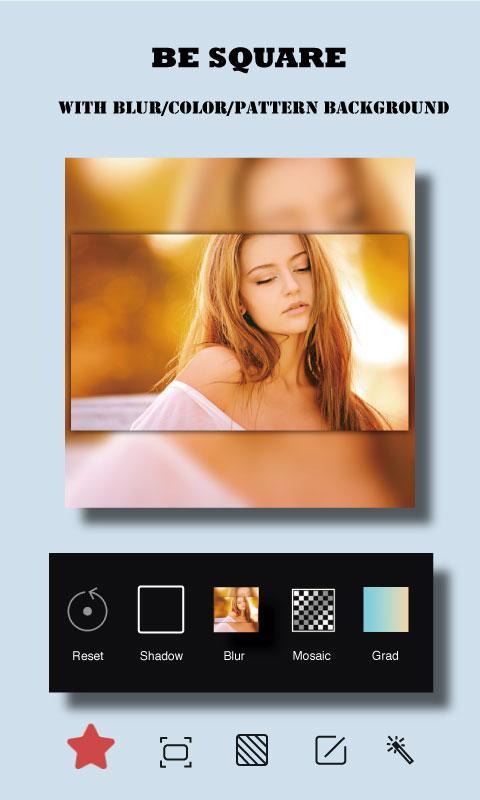 This application allows you to post full-size pics without cropping on Instagram and also supports 3d effects for overlaying on images.
4. UnClip
UnClip is a newly launched and also one of the best no crop apps for Instagram. This application has a very simple UI and also got lots of editing features. The zoom-in feature of this application helps you in adjusting the image perfectly for no crop.
You can also blur your images or add new images to the background to make it beautiful. The edited photos in this application are available for both Instagram and WhatsApp.
5. InShot
Inshot is not only a video editor but does photo editing perfectly. This is the best application for you if you are looking for photo and video editing tasks in a single task. You can crop your pictures for Instagram with no compromise with quality.
This application also has a text and fonts editor in it. You can make a lot of collages using this application.
6. InstaSize
InstaSize itself explains its job by its name. Insta size transforms your picture with perfect ratios without reducing the quality of the application. Instasize contains more than 80+ curated filters. This application is fast and AD free.
It also allows you to save your image in high resolution. You can also create photo collages and layouts with the help of this application.
7. No Crop & Square
No Crop & Square is also a good option when you have to crop images for Instagram and Whatsapp. No crop has a user-friendly interface that helps users to navigate easily. This application has 30+ filters with beautiful effects that do a good job for your photos.
You can also decorate your images with 3d emoticons and stylish fonts.
8. Square Pic
Square Pic is also similar to other no crop app. With the feature of cropping for Instagram, you also get a powerful photo editor built in this application with lots of amazing filters. You can also add a blurred border with this application to your pics.
This application has also a good collage maker with dozens of templates. Download this application to avail of all these features.
10 Free No Crop Apps For Insta And Whatsapp
Here are some more apps that will enable you to edit and upload pictures on social media.
INsquare Pic
Square Quick
Square Size Fit
UnClip
InShot
InstaSize
No Crop & Square
Square Pic
Square
Squaready
Conclusion
HEY! guys this article was a well-defined list about no crop apps for Whatsapp and Instagram. If you are looking for No crop applications then you should really give this list a try. If you have any doubts regarding this list then you can surely contact us in the comments section. We will help you for sure. Thanks!