Looking for the best Cydia Tweaks for Spotify App? I have compiled a list of Top 7 Spotify tweaks which will help you to make your Spotify app more interesting.
Spotify is a multi-platform streaming application that has become everyone's go-to app for music streaming. It contains millions of songs from indie composers and branded labels, there's no shortage of songs in any genre on Spotify. Therefore, a lot of people prefer Spotify for Music over any other music streaming apps available in the industry. However, there are a few flaws in Spotify as well which annoys the users quite a lot.
There's no way one could overcome such flaws on Spotify without taking the help of a third-party application called Cydia. In case, if you didn't know, Cydia provides various tweaks of apps in order to enhance the experience. A jailbroken iOS powered device is required to install the Cydia and its tweaks properly.
In recent times, a lot of Cydia Tweaks have been rolled to users. These Spotify tweaks can help you in customizing the Spotify app without any special requirements. In case, if your device isn't jailbroken, then consider switching to alternatives.
Top 7 Best Cydia Tweaks For Spotify App
A lot of UI based problems can be easily resolved with the help of Cydia Tweaks. The best part is that it's completely safe and will not harm your Spotify account in any way. So, Go ahead and make use of the following Cydia Tweaks for Spotify app without any worries. I have personally tested these Spotify Cydia tweaks on my iPhone 7 before publishing here and I can say that My Spotify app looks amazing. Check out below tweaks and you will know why you need to apply on your Spotify app.
Also Read – Best Jailbreak Cydia Tweaks For iOS 12
Spotty
Spotty is a simple and basic Spotify tweak from Cydia that would allow you to add "Art or Pictures" to your songs. Additionally, the tweak will cache the added "Art" , to make sure that it's displayed even when you're offline. Spotty is an interface-related tweak for Spotify. Some people may not like to see a blank space whenever a song is played, such users can make use of Spotty to add Arts next to their songs. It's quite simple and does not require any technical knowledge in the process.
SpotAlarm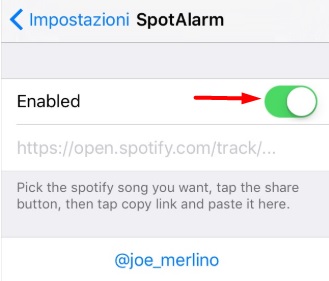 As you read it, the name itself gives away its functionality. SpotAlarm is another useful Cydia Tweak for Spotify app which allows the user to set any Spotify song as their Alarm ringtone. It works flawlessly with any song that's available on the Spotify app. Isn't it a good thing to wake up to your favorite music rather than some crappy-default music? The process is also simple, you just need to select any song and start playing on your Spotify App. Once, the song is being played, the option to set it as Ringtone will appear.
DefaultSpot
Have you ever wanted to set a Spotify App as your default music player? Well, most of you would like to have this feature but stuck due to Apple's restricted OS. DefaultSpot is another useful Cydia tweak for Spotify through which you can set Spotify as your default music player on any iOS device.
Next time, whenever you swipe up and hit the play option, Spotify app will show up and start playing the music. The default Music Player (Apple Music) would not come up until you turn it OFF from the settings.
Clarify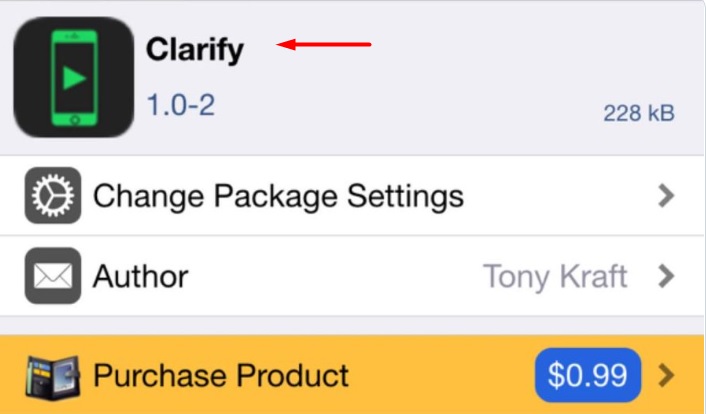 Clarify is a premium tweak that requires a purchase in order to be used with your Spotify App. The tweak would your music-listening experience on Spotify app by adding features such as Background Downloading, Private Session Always On, etc.
You will also be able to hide the "Recently Played" section using the Clarify Tweak on your iOS device. The App would also remove the Blur effects from the art of the song that you wish to play. Overall, it brings minor changes that would improve your Spotify experience greatly.
Radish
Radish is an essential tweak that would save you from getting embarrassed in public situations. Spotify does not care if you're with your family or in a public park, it will play whatever the song comes next, including explicit songs. You can't avoid it in any way.
To counter this problem, Radish tweak was developed that would block explicit songs from playing in the Spotify app. The tweak does not remove your playlists or songs, it will simply stop the explicit to be played by the Spotify app whenever you want it. Quite useful, isn't it?
SpotifySiriControls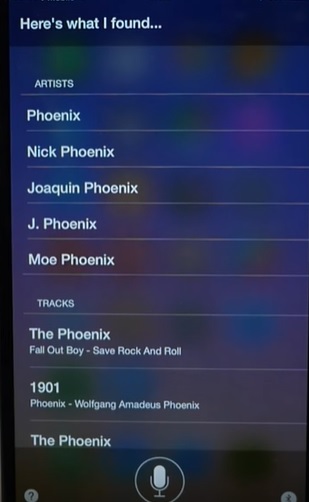 The voice assistant, Siri, is a great feature on iOS devices that enables the user to perform an action using voice commands. Unfortunately, Spotify app does not come with Siri Integration, meaning, you can't control the Spotify app using Siri.
But, a simple Spotify tweak such as "SpotifySiriControls" would fix the problem for you. The tweak will allow you to manage the Spotify app using voice commands. You can perform various actions like Playing songs, Pause, Resume, Switch albums, Close the app, etc.
For example – "Siri, Search for Phoenix in Spotify" – Check the result in the above image
You May Like – Best Cydia Sources and Repos
Conclusion
So far, we've haven't any Cydia Tweaks for Spotify App that are worth mentioning, apart from the ones mentioned above. The Tweaks that are mentioned above include free ones as well as paid ones. It's easy to download and enable them on your iOS device, simply head over to the Cydia App. Lastly, make sure to let us know your favorite Cydia Tweak in the comment section.