If you are an iOS user then you should be familiar with the terms Cydia apps and jailbreaking. Once you have the Cydia apps installed on your iOS device, you can use the premium iPhone apps for free. I have tried tons of repos for Cydia and compiled a list of the best Cydia Sources & Cydia Repos for iOS 7 and above.
Cydia App is a third-party app that can be installed on iPhone, iPod, iPad, and any other iOS device. It helps you to download more features, themes, and tweaks like an App store.
Although iOS has its own app store but most of the people use Cydia apps because it provides more benefits than the app store. In Cydia apps, you can find both free and paid apps, where the paid apps are very cheap when compared with the Apps Store.
What is Cydia Sources?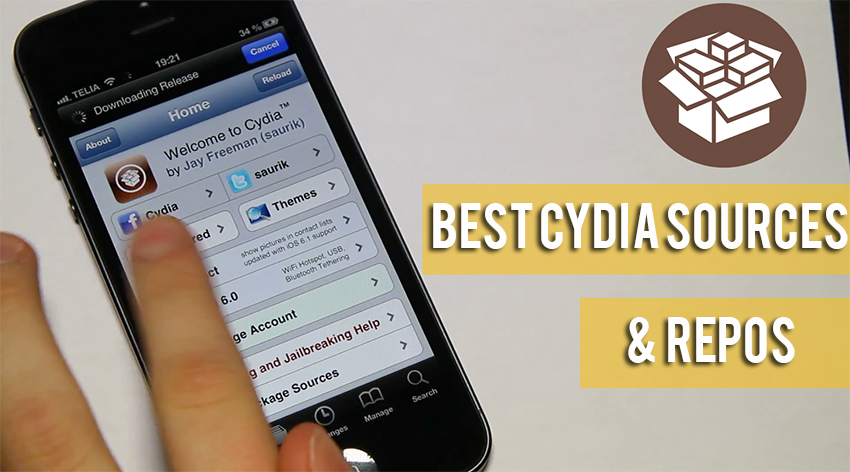 Now you know about the Cydia apps its time to know about the Cydia sources. Cydia Sources are the place where iOS developers will release their apps, tweaks, and themes. If you want to use the apps which are uploaded here you should link the Cydia source to your Cydia app and the connecting process is really simple to do.
Once you have completed the integration you will be able to search and download different kinds of applications and games in your iOS device without any restrictions. There are multiple Cydia sources available on the internet, to reduce your complications we have listed the best Cydia repositories that can be helpful to you.
Related – Top 7 Best Cydia Tweaks For Spotify App
Top 10 Best Cydia Sources & Repos 
In this post, I will share the Best Cydia sources and Cydia Repos for iOS 7 and above. Do comment below If you know any good source of Cydia so we can update our list.
ModMyi Repository              
It is the most popular Cydia source which is preferred by many iPhone users. Its popularity is due to the huge collection of apps and modifications available for download. It has a well-categorized list of apps for various uses and It has a number of apps, especially for business, travel, education, and entertainment.
With ModMyi repo, you can also access the latest news, review, and downloads. In simple words, you can manage everything from your phone once you have installed the ModMyi repository.
ModMyi Repo URL – apt.modmyi.com
BigBoss Repository
BigBoss is one of the best Cydia sources available online. The best thing about BigBoss Repository is, it is available as a default repository once you have installed the Cydia app on your device.
This single repo can provide you thousands of themes, tweaks, apps, etc. It allows you to configure the basic aspects of your device such as Ring and vibrating behaviors. You will definitely see the changes in your device once you install the BigBoss Repo.
Bigboss Repo URL – apt.thebigboss.org/repofiles/cydia/
iPhone cake
iPhone cake is the most famous Cydia source among iOS gamers. This is said to be the best Cydia Repo for the gamers as it allows you to make use of cracked apps and games. You can get various categories of games like Action, Adventure, Arcade, Puzzle & Combat, etc.  You can gain your favorite games, apps and all other specifications for your iOS device. So, If you are a gamer then you should not miss this amazing source of Cydia.
iPhone Cake Repo Link – http://cydia.iphonecake.com
Hackyouriphone
From the name itself, you should have guessed the nature of this source. Hackyouriphone provides a lot of tools that can help you to hack into your iOS devices. It is one of the best sources for Cydia to hack any Apple or iOS Device. Here you can get the best jailbreak package and you will be able to get most of the Cracked iOS apps here for free. They have huge varieties of apps available. They will be regularly updating the cracked versions so if you want all the latest stuff for your device, you should regularly update the source.
Hackyouriphone Repo URL – repo.hackyouriphone.org
Filippobiga
It is one of the greatest sources of Cydia that can fulfill each and every aspect of the user as can customize the look of your device with the help of Filippobiga. You can completely reconfigure and modify the appearance of your device in the way you like it to be. You are able to customize each and every aspect of your iOS devices such as folders, carrier logo, icons, lock screen and many other options in your device. The best part about this Cydia source is they really provide an easy customization options for you.
Flippobiga Repo link – filippobiga.me/home.html
ICleaner Pro Repo
When it comes to the Best Cydia repos in 2020 then iCleaner Pro Repo also makes a place in the list. This is one of the most appropriate forms of application that your device might need. It provides all kinds of cleaning apps that are required for your iOS device. You can find different kinds of apps that can help you to clean up space in your phone by removing unwanted files such as temporary files, cache files and other files which aren't used for a long time in your device.
iCleaner Repo URL – xile90software.com/cydia
UnlimApps
Like all the other Cydia sources listed above the UnlimApps also serves a unique purpose for you. It is most suitable for users who stay online 24/7 and who loves using social media apps.
With UnlimaApps You can get many other useful features and tweaks related to social media apps such as Facebook, Twitter, Instagram, YouTube, etc. You will also able to make use of this repo if you are handling business with the help of social media.
UnlimApps Repo link – https://beta.unlimapps.com/
Also, Check out others working top Cydia sources below which are worth mentioning.
Karen's Repo Url: https://cydia.angelxwind.net/
Insanelyi repo URL: insanelyi.com
Xsellize Repo Url: http://cydia.xsellize.com
iForce Repo URL: apt.if0rce.com
You Might Like – How to Download & Install Cydia Without Jailbreak
Top 100+ BEST Jailbreak Tweaks for iOS (Cydia & Sileo)
Conclusion
Here We have provided you the best source of Cydia repositories that are defined for a different purpose. There are numerous best Cydia sources available on the internet, you can explore other Cydia repos also and identify the best one that can fulfill your need. So what are you waiting for? Start using these Cydia sources to make your iOS device to operate in your own way. Keep visiting techybuild for more such informative articles.