The ERR_NAME_NOT_RESOLVED means that your PC is unable to find which IP address matches the website hostname that you may type in the address bar of your browser. It may occur on Windows, Android devices, iPhone or iPad, etc. It doesn't matter whether you are connected to the internet or via Wifi or cable.
How to fix Err_Name_Not_Resolved Error
The error can be caused by various factors, regardless of there be a universal solution. You can follow these few steps to fix the error in your browser.
1. Internet connectivity is a must (a very common cause of the error)
1. You need to make sure that your wireless network is well connected.
2. You need to check if the Ethernet cable is plugged in well.
3. Now ensure that your DNS client service is running well.
4. Restart it.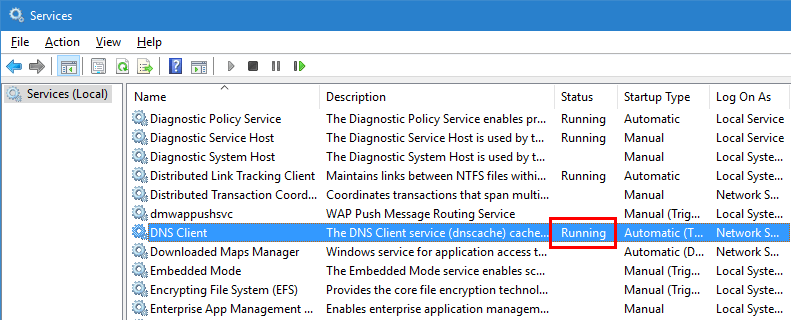 5. If you see that the DNS client service is not running, then start it and ensure the startup type is said to automatic:
2. Flush DNS cache
1. You can Launch the command prompt.
2. First type ipconfig / flushdns
3. Click on Enter
3. Reboot your router
You can power cycle your router ( modem or AP). The glitch on the router can cause the error "This site can't be reached". This may happen quite often.
4. You must clear your browser cookies
Browser cookies can be the reason to block your interest DNS and cause the err_nane_not_resolved error. You can clear browser cookies to fix this error.
You can type,
"Chrome://settings/clearBrowerData" in the address bar and then press enter on the keyboard.
Check cookies and other sites and plugin data. (This means that you want to clear that type of data) Now click on clear browsing data.
All the cookies are cleared in your browser, now your call check and see if the problem is solved.
5. Check your Security Software and Firewall
The Security Software and Firewall can create DNS block error because security software and firewall can block the network connection and the browser. You can check the settings of your firewall and security software, you may also require to unblock your browser and your network connection. Nevertheless, you can also try to disable your firewall or security software to see if the error is fixed.
6. You can use a VPN
You may be having the ERR_NAME_NOT_RESOLVED error due to poor connectivity to the website or it just being interrupted. Try using a VPN to bypass the interruption.
7. You need to remove malware
Viruses and malware can also cause err_name_not_solved in your google chrome browser. All you need to do is scan your computer system using the best malware removal tool. Remove all found malicious items. This can fix the problem.
8. Clear cache and cookies in your Browser
1. Make sure that your browser's windows are active now.
2. You need to press the key combination CTRL+SHIFT+DELETE.
3. Select the other side data and cookies and the cached images and files.
4. Now click on Clear Data
9. Disable prediction Service in Chrome
1. Tab on Setting in chrome then, Scroll down and click Advanced, then Disable use a prediction service to load pages more quickly:
Fix err name not solved error in Android
We can see the most common solutions for your Android phone or tablet:
1. Reboot your Android:
2. Reset network settings on Android:
3. Assign the Google DNS to your phone:
4. You also need to assign a static IP:
How to Fix Err_name_not_solved on iPhone
Follow the given steps to fix this issue on iPhone.
1. Go to Settings and open the app on iOS:
2. Go to General
3. Choose Reset:
4. Select the Reset Network Settings:
5. Perform the network reset, type your passcode:
FINAL WORDS
If you have read the whole article then you must have seen that almost every type of solution is covered. However we will be searching for more solutions, you may also consult the manufacturer of your device for further assistance if you encounter any hardware issue on your router.
If these solutions helped you in solving Err_name_not_resolved error in chrome then please do leave a comment. Also, leave a comment if you still couldn't fix your problem and need some more help from us.