Are you looking out on the internet for the most disliked YouTube videos? Look no further! This article will give you a full updated list of the most disliked videos on Youtube. As a bonus, we'll even tell you why they received such negative feedback from the public. It is now proved that just because a video is popular doesn't always mean it gets a positive response. Let's dive right in!
Top 25 Most Disliked YouTube Videos
Given below is the updated list of the top 25 most disliked YouTube videos ever. If you are also curious to find out why these videos have gotten such a terrible response, join us. We'll take you on the journey and tell you exactly why these videos have the most dislikes.
1. YouTube Rewind 2018
YouTube Rewinds are the videos in which the whole year's worth of content and happenings are quickly summarized in a 20-minute video. In most cases, these rewinds are looked forward to by many people. But the 2018 rewind was met with 18.67 million dislikes. This is because the video was too cliche and cringe. They even left out a few important celebs and events along the way.
2. Sadak 2 Trailer
With 13.35 million dislikes, Sadak 2 trailer produced by Fox Star Studios is the most disliked Hindi movie trailer on YouTube. The storyline of the movie depicted in the trailer is so basic and filled with nepotism. It took around 14 days for the trailer to become one of the most disliked YouTube videos.
3. Baby Music Video
Justin Bieber featuring Ludacris music video, Baby, has garnered 11.94 million dislikes. The MV was released 11 years ago, and people still revisit it many times over the years. Baby Beiber has amateur dance moves in the video and just a very rookie vibe throughout the video.
4. Baby Shark Dance
Pinkfong! uploaded the Baby Shark Dance on YouTube in 2016. It quickly became an earworm and a favorite among little kids. It has over 10.79 million dislikes because everyone is probably so sick of hearing that song time and again. Especially the parents who have to listen to that song only, because their kid loves it so much.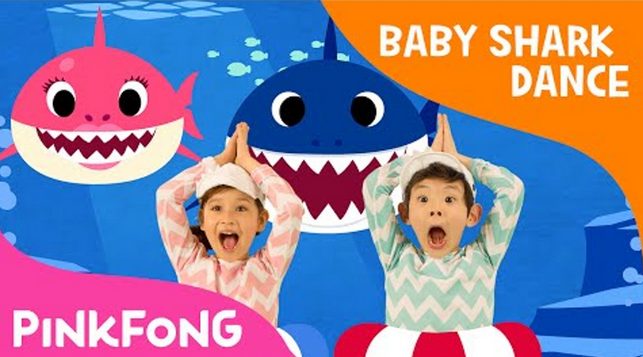 5. YouTube Rewind 2019
Just like the YouTube Rewind 2018, the 2019 version was also a disaster. Over 9.32 million dislikes, YouTube rewind 2019 is disliked among the people because this video also has similar mistakes as the older version. It's too cliche and cringe, but less than 2018 one.
6. Johny Johny Yes Papa
LooLoo Kids uploaded this video and got 8.27 million dislikes in total. It isn't a rhyme that needs to get this much hate but keep in mind that their rhymes are very popular with kids. Imagine this playing 24/7 in your house. It will drive you crazy and make you hit that dislike button.
7. Learning Colours Multi-coloured Eggs on the Farm
Miroshka TV is a Russian channel that uploads rhymes for kids. The learning colors video has a bunch of creepy eggs which explains the 6.98 million dislikes. The eggs even go on to break themselves and form one huge egg out of the broken pieces. Your kid will learn all the color names, but they will also see something very weird for their age.
8. Bath Song
Cocomelonis a Nursery Rhymes channel. It is quite popular, with 5.60 million dislikes and countless frustrated parents who have to listen to the rhyme every time their child wants. It gets annoying when all you listen to are nursery rhymes. That being said, the video isn't weird or creepy.

9. Flores
Vitão and Luísa Sonza released a music video named 'Flores'. It got over 5.44 million dislikes even though it is only a 3-minute video of a song. People just didn't vibe with the music video a lot, considering the fact that Flores isn't even an earworm.

10. Lakdi Ki Kathi
With over 5.42 million dislikes, this Hindi children's song is quite popular among Indians. Even when you search for Hindi children's songs, Lakdi Ki Kathi is the first on the result list. Guess people just got bored of the song, since it's been around for quite a while now.
11. Can This Video get 1 Million Dislikes?
PewDiePie uploaded a video on his YouTube channel asking his fans whether he can get 1 million dislikes. He made a sketch where he was on the phone and says getting dislikes increases power apparently. Guess what? He got 5.14 million dislikes instead. PewDiePie has a lot of subscribers and fans, so this task was an easy one for him.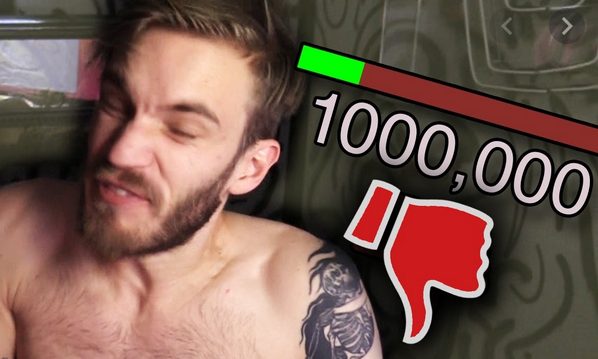 12. Wheels on the Bus
It has 5.06 million dislikes for being a nursery rhyme. There's nothing massively wrong with the video. It's just irritated parents who have to keep watching the same nursery rhyme on a loop. You can check it out for yourself.
13. It's Every Day Bro
'It's everyday bro' is a song released by Jake Paul. It has 4.92 million dislikes because the song sucks. Everything in the video is super cliche, boasting of money. The lyrics are super basic and the overall vibe of the song makes you barf.
14. Despacito
This song, by Luis Fonsi featuring Daddy Yankee, has 4.65 million dislikes. Despacito was a major BOP throughout 2017. In fact, it was so popular that every place and everybody knew the song and played it on repeat. Since the song got so popular, it soon became annoying to hear it play. That's why people started to go on to YouTube and hit the dislike button.
15. Humpty the train on a fruits ride
Surprise surprise! There is another children's rhyme on the list with 4.96 million dislikes. It has nothing much to do with the quality or the message of the video. It received so much hate because the poor parents grow sick of listening to the same thing time and again.
16. Baa Baa Black Sheep
Baa baa black sheep has 4.33 million dislikes. There are a lot of children's rhymes in the most disliked YouTube videos because parents have to listen to these videos all the time. This can drive anyone crazy. There's no other reason as to why people hate baa baa black sheep.
17. Dame Tu Cosita
This song went viral on all social media sites because of the catchy beat. It has 4.21 million dislikes because it was simply played over and over again. The music video has a green alien dancing to the beats, pretty fun to watch. People even dressed up as the alien and made short videos of them dancing to the music.
18. Chal Chal Gurram
With 3.94 million dislikes, Chal Chal gurram is a nursery rhyme for little kids. There's no particular reason why this video got so many dislikes. It's probably because parents have to listen to it on loop, and also the animation quality isn't the greatest.
19. Call of Duty: Infinite Warfare Reveal Trailer
This video has over 3.93 million dislikes. The main reason for the negative feedback is that the players are not very impressed with the storyline and the quality of the game. There isn't a lot of change from the older version, that's why the huge dislike number.
20. How it is (WAP BAP)
Bianca Heinicke is a german web producer who released this song on her YouTube channel called 'BibisBeautyPalace'. This song got a total of 3.27 million simply because people don't like the music. It has a very un-danceable beat and sounds like a child singing. At least that's what most people who disliked the video said.
21. Yes Yes Vegetables Song + More Nursery Rhymes & Kids Songs
3.21 million dislikes seem a lot for a nursery rhyme compilation. However, when you are a parent and have your kid playing this all the time, the same nursery rhymes can get very annoying. That is why a lot of rhymes have made it onto the most disliked YouTube videos list.
22. Cortando O botao de
AruanFelix is a Brazilian YouTuber who uploads vlogs on his channel. "Cortando o Botão do Youtube" (Cutting the Youtube Button) vlog shot him to fame with 2.6 million dislikes. The guy literally took a video of him destroying the Silver button that YouTube gives out.
23. Aaja Beta Carry Teko Roast Sikhaye!
With over 2.47 million dislikes, Kunal Kamra's Aaja Beta Carry Teko Roast Sikhaye! was a comeback for the Carryminati video. This video clearly didn't get a good response as Carryminati's fans didn't like what was said. At the end of the day, this is a roast battle, so no one really gets a fair score anyway.
24. Cuties Netflix Trailer
The Cuties Netflix trailer has 2.30 million dislikes. The trailer of the movie shows clips of an 11-year-old girl from a very conservative family rebelling her way into a dance crew. The movie received a confused response as the message the movie was trying to put out was ambiguous for most of the viewers.
25. So Sorry
2.51 million dislikes are the stat for Logan Paul's 'So Sorry' video. Prior to this video, the notorious YouTuber uploaded a video of a dead body in Japan's Suicide Forest. The 'So Sorry' video is a follow-up video to apologize to his subscribers about the other video that was insensitive and triggering for many of his fans. No wonder this video made it into the most disliked YouTube videos list.
Conclusion
That's a wrap on the most disliked YouTube videos to date. We hope you found what you were looking for. Not all videos make it to the viral list with a positive response. If you want to go ahead and dislike some of the videos out there, join the club.