Msconfig is the most used command in Windows. If you want to use MSConfig in Windows 10, the steps are very simple. Here are some methods that will show you how easy it is to access this useful function. It is for those who want to customize different options in their devices.
In this article, we will cover ways to open MSConfig along with details about the various options and settings in MSConfig.
How to Open and Access MSConfig in Windows 10
There are different ways to Access Msconfig on Windows 10. You can use the run command to open it directly.
1. You can use the Run command
2. Then, open Msconfig with command prompt.
3. Finally, go to safe mode with MSConfig.
——OR——
1. You can press Windows key + r
2. The run box will open.
3. With the help of this Run Command box, we can open different utilities in windows.
4. Now type, in-MSConfig and click on Run or Hit Enter.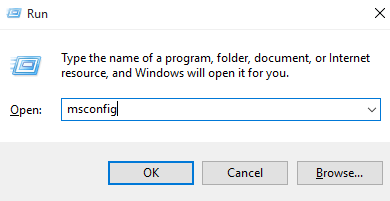 Windows will identify the command entered by you, and run the associated utility with it. MSConfig, in this case.
After the dialog box opens, you can see a window consisting of 5 different tabs.
Tab number 1- General
This tab will be displayed by default when you first run MSConfig. It contains the following three startup options that will help you boot your machine into the selected mode.
I- Normal Startup: Here the operating system will load all the locally installed drivers and programs along with the default services and drivers.
II- Diagnostic Startup: You can use this method to check for errors and look for stability, health, and other performance issues in your operating system as well as the machine.
III- Selective startup: This option offers further three choices. These checkboxes will help you toggle the various startup services and programs that you will run via the services and startups tab.
Tab number 2- Boot
This tab controls all the boot-up settings of your operating system. It has various options and checkboxes that can change the boot process of our windows. When you click the boot tab then you will see a white box with the list of operating systems installed on the current machine. You can boot up in four different kinds of safe mode.
Tab number 3- Services
This tab displays all the services configured to start up when the operating system boots up.
Tab number 4- Startups
This tab will take you to the Task Manager. You will be taken to the startup tab of the task manager, which is to essentially say that they both are the same.
Tab number 5- Tools
MsConfig will show you various utilities and tools that you can lunch directly from MSConfig. You can select the one you want to run by going to the list of administrative tools and then click on Launch.
——OR——
Method 1: Run command
Opening MsConfig can be done with the Run command, just as you did in the previous versions. You can use the keyboard shortcut "Windows key + R" and the "Run" windows will open. Now in the text box, you can write "MSConfig" and press Enter or OK. The MSConfig windows will open. In the bottom left corner, you can open the Run menu where you will find the Run window.
You can see the same option in windows 10, by right-clicking on the start button, along with the additions you can see the same options menu. Furthermore, you can use the search charm to search for"MSConfig" and it will find the command.
You can look at the above guide that will help you to find the windows key that isn't working.
Method 2: Use the command prompt to open MSConfig.
This is an easy way to open Msconfig with the help of the command prompt. Just you need to open the command prompt and enter the command prompt and you are good to go. Follow these steps to know what you need to do.
1. Go to the search option and type cmd, then right-click the command prompt, and run it as Administrator
2. Now you need to enter the following command, and press Enter Start MSConfig.
You should also keep in mind that just using this command won't give you any outcome and you get the "MSConfig is not recognized as an internal or external command, operable program or batch file" error message.
Thus, you need to stick to the right commands without any problems.
Method 3: Safe mode with MsConfig
A lot of people think that using MsConfig is the most straightforward way of entering the Safe Mode in windows. Follow these steps to see how it is done,
1. First, open MsConfig by using one of the methods from above.
2. You need to go to the Boot tab
3. Then, check the Safe Boot, and choose one of the following options:
4. Alternate shell: Get it on Startup, open the command prompt in the Safe Mode, with critical system services only. Networking and File Explorer are disabled.
5. Minimal: Get it on Startup, open the File Explorer in the safe mode, with critical system services only. Networking disabled.
6. Network: Get it on Startup, open file explorer in the safe mode, with critical system service only hence the Networking is enabled.
7. Directory repair: Get it on Startup, open File Explorer in the Safe Mode, critical system services and Active Directory.
8. Finally, Restart your PC
MSConfig is a very versatile and useful that can help you solve the problem relating to configuring windows startup. It is very simple to access MsConfig in windows 10, there is more than one way to open it. So you can choose which method can help best for you and help rectify your issues.
FINAL WORDS
After going through several methods if you still feel that you are facing some problem, then please don't hesitate to leave a comment.