Snapchat has a whole different craze among many youths and that's the reason a lot of people are always looking for ways to use Snapchat even on their PC. Well, yes, you can run Snapchat on Windows 10, 8 or 7 very easily. This guide will help you Download Snapchat for PC.
Snapchat is a well known social networking site. Snapchat like any other social media platform is a messaging app with some different features that got it pretty famous amongst youngsters. As the name suggests, Snapchat allows the user to share images and video to other contacts which work exactly like the stories in WhatsApp or Facebook. But unlike WhatsApp and Facebook Snapchat allows more control over the flow of data. It offers user to choose the time limit and the number of people they want to share with.   
Snapchat is a mobile-friendly app and fun to use social media site but it comes real handy when dealing with social media marketing. And that's why the access of Snapchat to the window works like icing on the cake for the Business guys. In this article, I will tell you how to run Snapchat on windows without any issues.
How to run Snapchat on PC?
Snapchat was launched in the year 2012 and got instantly famous for its privacy and functionalities. But being only accessible to mobile limits it's usability. But that was in 2012, today you can easily use Snapchat via PC using any third party software known as android emulators. An Android Emulator is a virtual platform which allows running any android app on PC.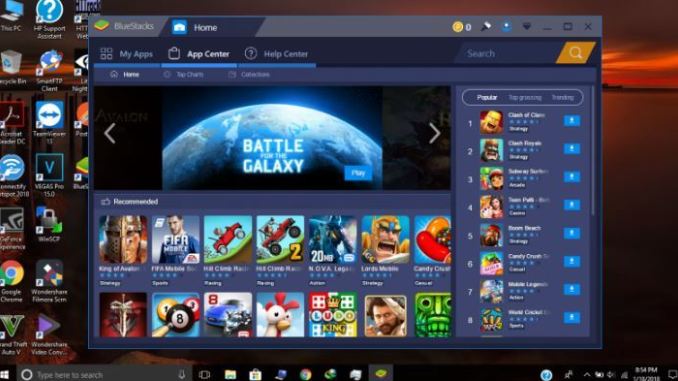 Emulators are mainly used by Android app developer to test run their apps but it can also be used otherwise. You can easily download any emulator from any software site for free or can create one for yourself. Currently one of the best emulators in the market is Bluestack.  Bluestack is one of those very few emulators that lets you use most of the android apps on PC by downloading it from play store.  Bluestack also recently added Snapchat to its list which solves today's issues. 
How to install Bluestacks?
Now we know exactly how to use Snapchat on PC or windows and the only thing remaining is how to do so. Well in order to run Snapchat, we need to install Bluestacks first. You can install Bluestacks from any third party software site if you like or you can do it by downloading it directly from Bluestacks' official site which is totally free. To do so,
Step 1– First, turn on your PC, Open chrome and Go to www.bluestacks.com.
Step 2– On the Bluestacks official site, click on the Big green button at the center of the screen with "Download Bluestack" written on it.
Step 3– Once it finished downloading open the app to install it.
Step 4– Click on Finish when the installation is completed and double click on Bluestacks shortcut to run it.
Once you have installed and successfully launched Bluestack on your PC it time to set it up. To run any app on Bluestack you first need to sign in with your Google account as it allows you to download any app from play store which of course needs a google sign-in.
Download Snapchat on PC
The base is all set up now, so it time to bring in the Snapchat on your PC. Using Bluestacksyou can easily download Snapchat from play store and run it on your windows without any issue. To download  Snapchat
Step 1– First run Bluestacks on your PC.
Step 2– Now you can either open play store or go to the search option to search for Snapchat.
Step 3–  Once you find Snapchat, click to open it and then click on install, exactly the same way you do it on your phone to install Snapchat.
Step 4– Once you have installed Snapchat, go to the home section and click on Snapchat to open it on PC.
Snapchat Login on Windows PC
You have downloaded the android emulator as well as downloaded, installed and opened Snacpchat on your device, now the only thing remains is to login into your Snapchat account. Snapchat on your Windows runs exactly the same as it runs on your Android device. So, logging in works the same as it did in your phone given the circumstances that you already have an account.  To log in just simply enter your login id/ user id and password, click ok and voila you are using your Snapchat on PC. In case you don't have an account just make one.
Important- Most of the times logging in doesn't give any errors, but sometime you might get an error while logging in. It can happen if you didn't sign in with a valid google id or downloaded Snapchat from a third party source. It might also happen due to outdated clock setting so make sure everything is perfectly set up for hassle-free login.
Final Words
Not having a Windows friendly Snapchat might be a bit troublesome but with the help of this article, you will be able to run Snapchat on Windows 10 or 8, without any issues. Using Snapchat on PC or via emulator is not illegal as well so you don't have to worry about your account being banned as well. It is also 100% safe so your data is totally protected. I hope this article is helpful to you. Feel free to drop a comment in case you get any errors or have any type of queries. Stay with us for more tech related posts. That's all from my side-Peace out.