We get many questions like "Which are the best Unblocked Games that we can play on our school and college premises?" And if you are the person with the same question, then you have come to the best place on the internet. 
In this article, we are going to provide a list of some of the best Unblocked Game Sites that you can try in your spare time. All these websites are legal and trustable. Therefore, you can completely rely on them.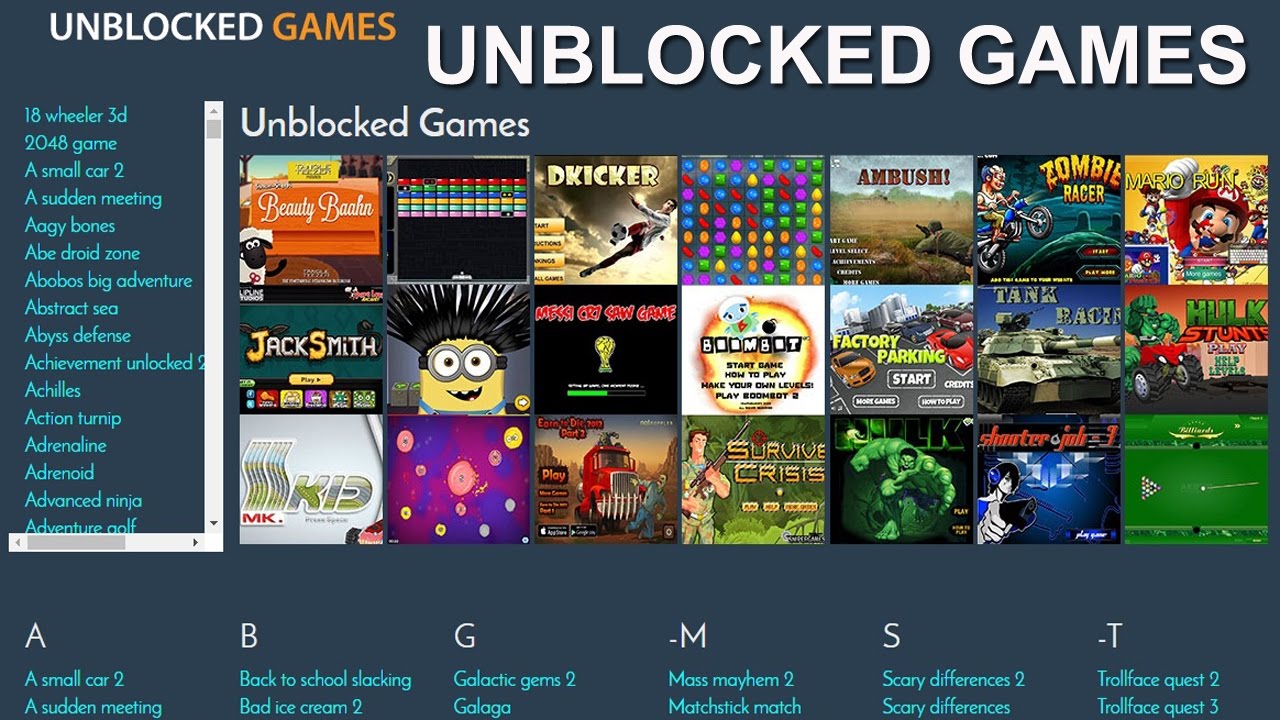 Best Unblocked Games Sites In 2021
We know the names of many schools, colleges, and other organizations that have blocked access to entertainment under the premises. You can't listen to music, watch movies, and even can't play games under these premises. In today's article, we are going to ease your lifestyle by providing some of the best Unblocked Games sites that work in 2021. 
If you are a studious type of guy and want to improve your knowledge even while playing games then HoodaMath is the website for you. As you can easily guess by the name, HoodaMath consists of math games and puzzles related to some other calculations.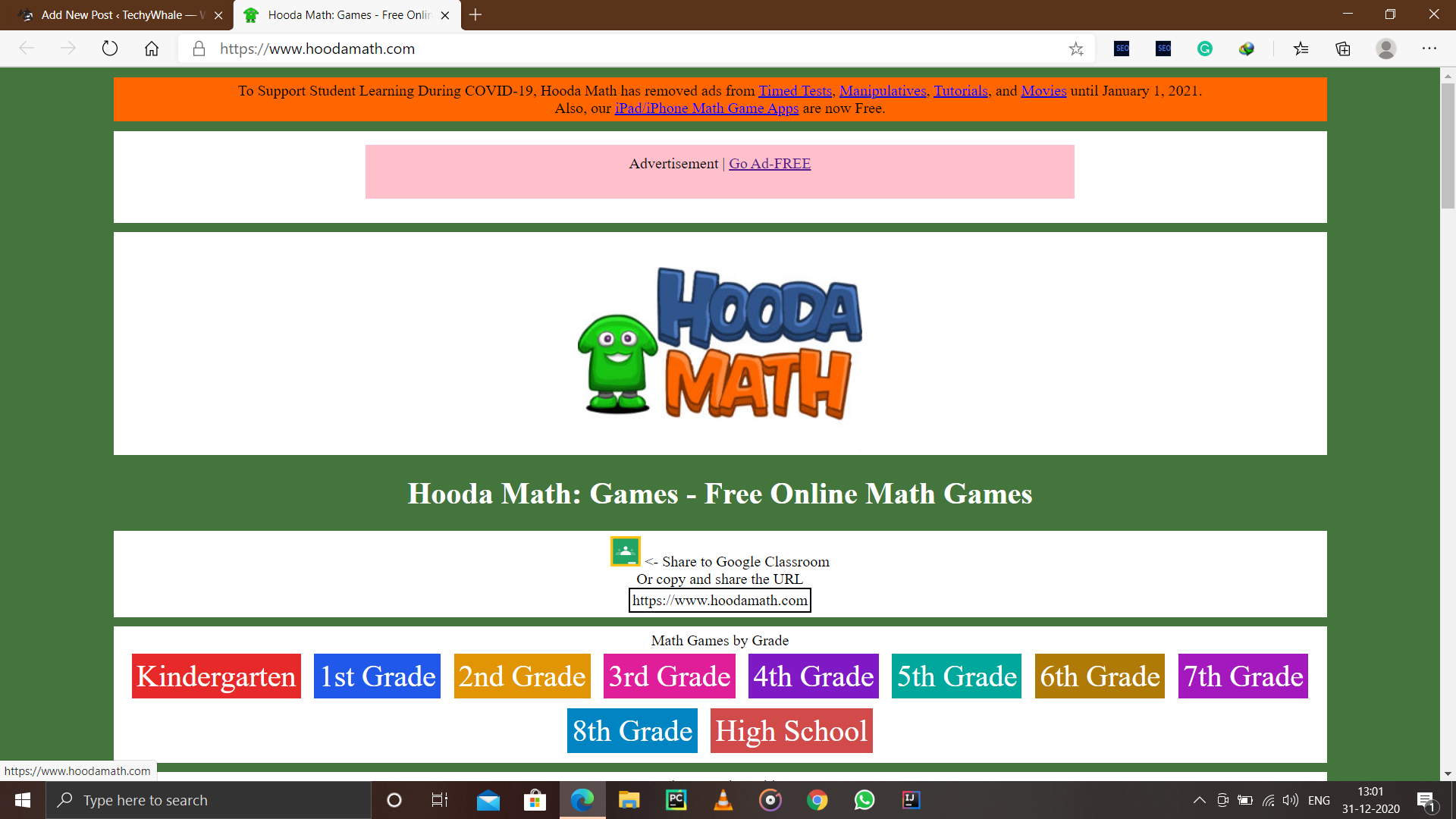 HoodaMath gives you the option of choosing the game category and its level. You can also choose the topic of your maths question. For example, if you want to solve questions related to addition, you can choose the addition of option, or if you want to solve questions related to fractions, you can choose the fractions option. 
UnblockedGames66 is famous for providing a huge variety of flash games. You need to have a good internet connection to play games on this website.
Just visit their home page and choose the game you want to play. Being a huge fan of outdoor sports, some of the games that I personally like to play on these websites are 1 on 1 Basketball, 1 on 1 Football, and 1 on 1 Hockey. For enjoying these games you also must have a Flash Player installed on your device. 
CoolMath offers different genres of games including puzzle games, number games, log-in games, and skill games. Some of the latest additions of games to this website are FireBlog Winter, Chase of Boxes, God, Bono Gooey, Winter Dodge, and more. 
The interesting fact about this website is that it has been developed by a maths teacher. His aim behind the game development was to clear people's misconception that math is a very tricky subject. 
Unlike the other names on this list, Google games is not an unblocked game website but an extension that you can install on your Google Chrome browser. And according to us, it is the most trustable source to kill your free time. 
The size of the extension is just 22.3 KB, therefore it is not going to affect your browsing experience if you are on a low-end PC. You can find various genres of games on this platform including action, multiplayer, adventure, and more. 
BoredButton is another name on our list that hasn't been blocked by any of the schools, colleges, and other organizations. This Website is very helpful for killing your free time by playing games. 
On the home page of this website you will see a button icon, you have to click it to move further down the website and play different games. 
Powered by Google itself, Mill Eagles is a very interesting website to spend your time playing games within your school campus. The home page itself contains a list of different games. 
Mill Eagles offers different genres of games including Action, Bloons, Casino, Strategy, Mario, and more. Some of the most famous games on this website are Sports Heads Football Championships, Happy Wheel, Run3.
Recently, the website has also added some new games to its database that includes Power Fox 1, Madalie Stunt Cars 2, Sticky Ninja Academy, and more.
This is another very famous website on our list. It has gained huge popularity because of providing the best games on its website. 
The best part about this website is that you can play HTML5 games if you don't want to play Flash games that require a Flash Player. The UI provided by this website is also very simple and straightforward. You will find all the games listed on the home page itself. 
This will help you to pass your free time in school, college, or any other organization. Just like Mill Eagles, this website is also powered by Google and it offers hundreds of interesting browser games. 
If you are a 90s kid then you must be a fan of Mario. This website offers a variety of Mario spinoff games. The interface is simple and very much similar to UnblockedGames66.
Armor Game is a website that has been blocked by most schools and colleges. On this website, you can play all those games that used to play as a kid such as Mario, Contra, Olympics, and more. The developers keep regularly updating this website therefore you always get something new to try.
Armor Games also offers a variety of multiplayer games that you can play with your friends, and challenge them to beat your high score. 
The last name on our list is Unblocked Games 333 and it is definitely a gem for all those people who like to play small games. You can easily access this website in the majority of schools and colleges. 
Some of the latest editions to this website include Zuma Deluxe, School Bus Licence, Draw and Collect, and Boat Rush. 
22 More Unblocked Game Sites To Play Online
Here's a list of some more websites and games that you can try inside your campus.
Final Words
These were the names of all the best Unblocked Games sites in 2021. If you are aware of any other working websites please let us know in the comments section. You can also use the comment section to share your feedback or doubt regarding this post.