Do you want to get regular access to the free Internet? Do you hate using a 3G or 4G connection? There are many people who prefer using WiFi Hotspots only for certain reasons and if you are one of them then this article is a must-read for you. In this article, we are going to discuss about a very popular app, which goes by the name, WiFi Master Key.
It's mainly an Android software application but because we are the techies who like to help people, we would like to guide you through the ways through which you can install Wifi Master Key for PC. Officially, there's no direct way of running the app on your computer device as the developers haven't churned out a PC support app, but with the help of third-party tools like Android emulators, we can definitely get the program up and running in no time on your PC.
What is Wi-Fi Master key?
WiFi Master Key was developed in 2012 by LinkSecure with an aim of becoming the world's largest WiFi sharing community and by 2016, it was able to achieve its objective by gathering up to 900 million users and 520 million monthly active users. In fact, it became the world's first and most recognized free WiFi sharing platform. If you are still confused that what the app is all about, then in very simple words, WiFi Master Key is a mobile application through which you can get connected to free WiFi points across the globe.
Remember, it's not any hacking tool! The free Internet access is granted to you through the free WiFi hotspots that are shared by the users itself. The user interface is quite smooth and interactive. It currently has support in 123+ countries and regions, and more and more places are getting added up with fresh updates. So, if you think that your place is enough digitized then WiFi Master Key could be planning to expand there also. You never know! By the way, WiFi Master Key is a highly used app in China. It even dominates the top charts many times!
Read – How to Install VPN Master on PC
Features
1) Available in Multiple Languages
The app has a large audience base and therefore to cater to maximum reach, the developers have developed 19+ languages support which includes languages like English, Malay, Thai, Vietnamese, Arabic, Russian, Spanish, to name a few.
2) Costs Savings
The monthly data charge costs could be eradicated to a large extent by installing WiFi Master Key. It has various shared WiFi Hotspots created by normal users like you and me. As another user, you can freely connect to and use them, as that's the whole purpose after all for the creation and widespread of this service.
3) Fully Safe & Secure
It's a matter of concern when you share any sort of wireless connection with someone, especially in the cases of mobile hotspots. Therefore, it's always advisable and recommended to use apps like WiFi Master Key so that the sharer's privacy and security is heavily safeguarded in all means and this is done by keeping the shared passwords encrypted.
4) Easy & Convenient
The service is quite fast and reliable compared to most other similar apps. It even has a strong network of users and therefore, you are bound to always find open and free WiFi Hotspots for everyone. In just a matter of a few clicks, you will be able to instantly connect to the Internet.
How to Install Wifi Master Key for PC Using Bluestacks
Bluestacks is a very popular and commonly used Android emulator and that's why we have decided to include it in the article. Just follow the below steps carefully and in no time, you would have WiFi Master Key installed on your computer.
Download Bluestacks from the official website or source (www.bluestacks.com)
Once the setup file has been downloaded from the internet, just follow the on-screen instructions to get up Bluestacks running on your device.
Open the program
Let Bluestacks load and don't forget to link up your Gmail account, as without this linking up, you won't be able to perform the further steps.
Open Playstore and In the search bar, type in "WiFi Master Key" and wait for the search results to show up.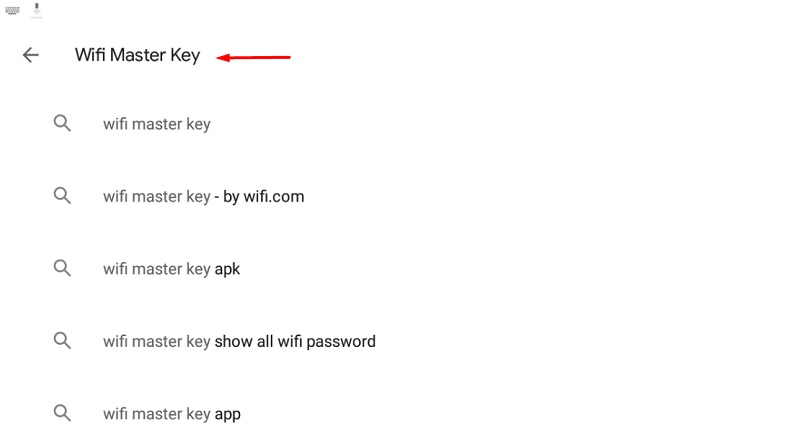 Many search results would arise up in front of your screen and you don't have to get confused. Just click on the first result and set the app to installation.
Have patience while the installation takes place and once done, head back to your app drawer and from there you can click on the respective app icon to open WiFi Master Key on PC.
Download Wifi Master Key on Windows PC using Nox
If for some reason, the above method doesn't seem to work out for you then you can definitely try Nox emulator. It's a very popular and recommended emulator just like Bluestacks. If you are a normal PC user then you shouldn't have any issues in using this one too. In fact, if you ask us personally then we recommend you to go with Nox emulator only as it's a bit better in certain aspects when compared with Bluestacks emulator.
Download & install the Nox emulator on your computer from an official website (www.bignox.com)
Once done, just open the tool and link it to your Google account and you will have to do this anyhow because it's an Android emulator.
Look out for the tab searcher and search in: WiFi Master Key
Install the correct app to your Nox emulator.
Once the installation has been finished, you are all set to use WiFi Master Key on your PC.
Related – How to Install CamScanner For PC
Final words
We hope that you would have gained enough information about WiFi Master Key and the way that you could install it on your PC for free of cost. If you follow the installation steps carefully then you shouldn't have much of an issue in getting it embedded in your Android emulator, whether it is Bluestacks or Nox player. By chance, if you still have any more doubts or queries pertaining in your mind then you can drop a comment below and we would definitely get back to you with an appropriate solution.