One of the easiest, convenient way to share any type of data is via video format. Whether it's for educational purpose, business purpose or just for entertainment, we are able to convey our message more easily. When compared to any picture or audio, videos are more compatible and entertaining. It also explains the instant success of Youtube, Instagram, and Snapchat.
Youtube is currently the most favored platform, to watch video content on any topic. As long as you have an internet connection, you can access video anytime, categorize them, share them and even save offline in some cases. But in no condition, you can download any Youtube video as it is against its terms of services.
So, What to do now? Well, luckily developers thought about that and created several video downloading apps for different platforms. A video downloading app allows the user to download video from any source directly via the app. After downloading the video will be accessible offline and can be shared with anyone.
Best Video Downloader Apps For Android
In this article, I will tell you 10 best video downloading the app for android users. I will also add a bonus list naming other non-mentioned applications.
1. Youtube Go
Have you ever fantasied watching Youtube videos with no ads, playing music in the background, with a big download button and an option to share that downloaded video? That's Youtube Go for you. It has the same UI, with a direct download link, a feature to play videos in the background and allows you to share with your friends. You can download videos at HD quality, does not need any root and has no ads. Youtube Go is literally Youtube with extra features.
2. Tube Mate
Tube Mate is one the most straight forward and versatile downloader in this list. Using Tube Mate you can download any video directly. It allows you to choose between MP3 and MP4 format, you can also choose the download location. It supports multi-downloading and allows you to pause/play it whenever you want. With TubeMate you can stream video while downloading any video in the background. You can download Tube Mate from their official site, it is free to download but not available on Play store.
3. Vid Mate
Just like Tube Mate, Vid Mate is another reliable video downloader. Unlike Tube Mate, Vid Mate has more modern UI and with Vid Mate, you can download video from sources other than Youtube. What makes Vid Mate different is the way it presents things. Open Vid Mate and you will see a list of sources like Youtube, Facebook, Whatsapp Daily, etc, to download video from.  You can also find videos under sections of TV shows, Music, Trending, Rating, etc. This app provides with fast downloading and has an in-built video player as well.
4. SnapTube
When it comes to a list of different video downloaders, Snaptube is the one name you'll get to listen over and over again. Even, I have personally used Snaptube for more than 6 months when I didn't have wifi at home(Life struggles mate!). SnapTube is more like a part of Vid Mate and a part of Tube Mate. With Snaptube you can access videos from all different sources, you can filter them on several bases, download a video in several qualities, choose the download path, pause and resume the download, stream it online and even watch it in its own video player.
5. Videoder
Videoder is another powerful video downloader. It has a modern but simple User Interface. To download a video, simply copy the URL, paste it in the Videoder app, let it search, choose the quality/format and click on download. You can also search for videos in the app by name, as it searches all the top sites. It also gives you the option to choose the platform to narrow down your search. Videoder comes with night mode, offers different themes and have an in-built video player. it does contain ads but you can remove it by purchasing Videoder premium account. Videoder is not available on play store but you can download it from its official site.
6. InsTube
Instube is just like every other app shared in this article. It allows you to download Youtube videos, along with other social media sites like Facebook, Instagram, Twitter, etc. One thing that makes InsTube different from other is that it lets you share video directly from Youtube to Instube, so no more copy-pasting. Other than that, Instube allows you to categorized videos by creating private space along with bookmarking and providing several customizable options. As for other features, you do get to choose the download destination and video quality. One thing that sets Instube back from others is too many popup ads.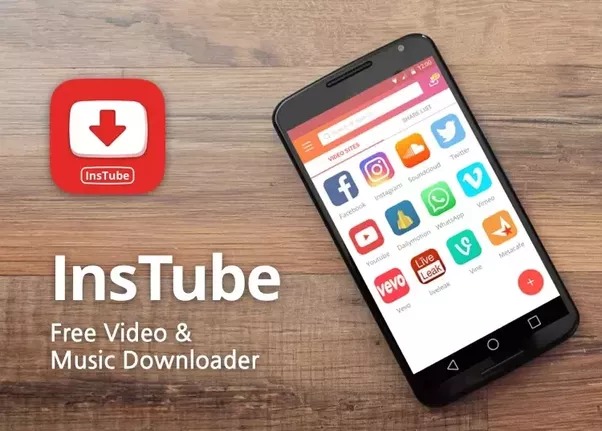 7.KeepVid
KeepVid is a simple video downloader with nothing fancy about it. It has quite a simple UI and allows you to download video from 360p to 1080p. KeepVid has nothing special about it, and work as same as other video downloaders. Just search the video or copy-paste the URL, choose the quality and download. The downloaded file will be saved in your local storage, the download path can be changed as per requirements. With KeepVid you can easily download video from popular video sites like Youtube, Tumblr, SoundCloud, GameVideo, Vimeo, etc.
8. YTD Youtube Downloader
YTD Youtube Downloader, which was previously based on PC is now available on the android platform as well. YTD allows you to download an unlimited number of videos from most of the streaming sites. It works the same as other downloaders(Copy and Paste). It also allows you to create a private playlist of your favorite media and password protect it, which is its unique feature, no app lock required. The User Interface of YTD is retro style but pretty simple and is very lite on your device.
9. NewPipe
NewPipe is another contestant in our list. Unlike its name, NewPipe is an open-source application that does not use any proprietary Youtube API. NewPipe focuses on providing the same user experience as Youtube. You can search, play video online, download it directly and even play music videos in the background. Other than that you can create a playlist, manage history, subscribe to channel, switch between different themes and do a lot of different kinds of stuff.
10. Android Video Downloader
Android Video Downloader or AVD is the simplest video downloading app I have come across so far. Since AVD comes with its own in-built browser you don't need to open any other application to access your video. AVD also is the only application which allows 4k video downloading along with 1080p and others. You can use AVD to access all of the popular video sites, the only set back it has is that it does not support Youtube. But we can access Youtube video from other sites so it's not really a setback. Other than its browser, simple UI, 4K downloading, AVD also supports Flash Video which is a plus. You might not get fancy features like other app but it works.
Well, these were the 10- video downloading apps for android that I felt were the best. In case any of these does not fulfil your requirements, below are some names of other video downloading applications that you might consider.
Bonus List Of 21 Best Android Video Downloaders
Youtube Go
Tube Mate
Vid Mate
Snaptube
Videoder
Instube
KeepVid
YTD Youtube Video Downloader
NewPipe
Android Video Downloader
TubeX
ArkTube
GetTube
Youtube Downloader
YMusic
Free Video Downloader
Full Video Downloader
 Download Manager
Tube Video Download Mate
Fastest Video Downloader
All Video Downloader
Final Words
So, that was the list of every single video downloader that I pretty much know about or suggest. You can access other applications on play store but none of them beats the list above. The Downloading source provided in this article is reliable, and most of the applications mentioned are not available only available on their official sites.
Again, Downloading Youtube videos is against their term so it is kind of illegal but you do what you have to do right?! Well, that's all for today, hope this article is helpful for you. Do comment in case of any queries. Thanks for sticking around, Vikram-out!