Planning to form an LLC? Aren't you very sure which service will be best for you to choose from? The LLC service providers like IncFile and LegalZoom are generally responsible for carrying out the preparation of formation documents and filling them for you to become an LLC. Well, in this article we'll be comparing the IncFile and LegalZoom, so the choice of selecting either one of the 2 will be an easy task for you.
Based on the knowledge you attain from this comparison article, you can decide which among the two will be the best option to help you out in forming an LLC.
So, Let's get started.
IncFile vs LegalZoom
As of today's time, most of the small scale business owners tend to skip the procedure of legal lease and focuses on running their business. However, most of them end up experiencing legal issues and being the small-scaled business they generally don't have enough money to afford an in-house lawyer or access to a law firm. That's where the online legal services like IncFile and LegalZoom comes into action. These are the legal services that tend to help the owners of such small business to resolve some straightforward legal issue and that too without them having to hire an attorney.
IncFile and LegalZoom, 2 of the biggest names in the industry incorporated into LLC formation. They compete with each other simply by helping their users who are planning to form an LLC as they tend to provide them with full assistance in preparing the documentation for LLC purpose, and that too they even file them for you. Although there is no problem in opting either of the 2, as they both can be entrusted to form your compliant LLC, it is because of how renowned the 2 companies are, because of their work ethics and quality.
Therefore, there are many differences between the 2 which makes them pretty different from each other, although they work for the same goal, to form a complaint LLC for their users.
Pre-Comparison report (Short Verdict)
Note: This section of the article is for those who want to skip the effort of reading an in-depth comparison report of the 2 antiviruses and directly know the result.
As per the research, both IncFile and LegalZoom are among the top online legal services and one can easily entrust in opting either of them, although, IncFile tends to have some advantage over LegalZoom hence making it the winner of this comparison. The most important difference between the 2 is the price they both offer to their customers. IncFile baseline price is set to be $49 which is $50 less than the base price of LegalZoom which is set to priced at $99.
Apart from that, IncFile also includes a full year of registered agent service with its LLC formations. Whereas, if t5alk about LegalZoom, it costs an extra $290 for registered agent service as an add on.
It is recommended to kindly read the full comparison report for in-depth knowledge of what both the online legal services have to offer before opting for any one of them.
Full Comparison (Side by Side)
The following section contains the context of the full side by side comparison of IncFile vs LegalZoom. It is conducted by comparing the most common things the 2 products work in, Kindly go through it, for a better understanding of how the 2 are similar as well as different from each other in different sections of comparison.
Pricing of both the products
As of the pricing section, it can be stated that IncFile services are more affordable than that of LegalZoom. IncFile baseline price is set to be $49 and is $50 less than that of LegalZoom who's baseline price is set to be $99, in which IncFile tends to provide its users with twice the services that LegalZoom has to offer, its not that LegalZoom doesn't provide its users with the same services, it does but again charge an extra fee for those features as an add on.
As, of the pricing section, it is clear that IncFile is the winner since it is way more affordable and cheap than LegalZoom.
Features offered by both of them (IncFile vs LegalZoom)
The feature section. As of the comparison between the 2, IncFile tend to offer way more features than the LegalZoom in the baseline price itself. It tends to provide its users with features like a full year of registered agent service followed by a 30-minute business tax consultation with any formation package, which are the 2 features LegalZoom offers as an add on of $290 for its customers.
Hence, again LegalZoom tends to announce the IncFile as a winner because of its addition of features like a full year of registered agent service followed by a 30-minute business tax consultation as an add o pack, that too which way too expensive for some small business owners.
User Experience
So, if talk about the experience in regards to both the services, IncFile has helped people for forming more than 250,000+ business since they first started the service in 2004, Whereas i9f we talk about LegalZoom, it clearly excels in this section it is because they have a large number of client volume as compared to IncFile. They have helped over 2 million business clients and helped to form over 1 million LLCs since they first started in 2001.
Hence as of this head to head comparison, LegalZoom is the sheer winner as compared to Incfile, since it shows a high aspect of experience in its particular field of work making it the clear winner.
Customer Reviews Based on their usage of the products
If we talk about customer reviews, LegalZoom might bring your hope in regards to it a little bit down. It most have mixed customer feedback. The LegalZoom has an A+ rating on a Business Bureau whereas it was only rewarded with 1.5 stars on BBB. The main reason or the main complaint with LegalZoom was that the customers were charged by LegalZoom for the services they didn't even receive, charged them with the wrong amount and even charged their customers without having their authorization of charging them. Although, LegalZoom claimed to have resolved the issues facing by their customers later on. Apart from that, Customers did appreciate the range of legal services they could access through LegalZoom.
Whereas, if we talk about IncFile, it was rewarded with very positive reviews. The company has an A+ rating on the Business Bureau and a 5-star rating on BBB. The customer stated in a review that they thought the business formation and compliance processes were clear and easy to understand. On top of that, many of the customers also stated that Incfile's transparent pricing is pretty neat and very helpful. Although some customer reviews were about the complaints against the company stating their ill communication with them and also about not providing services by the stated deadline.
Whereas, if we talk about the winner, IncFile tends to take the lead as, it has less amount of negative reviews and ratings as compared to that of LegalZoom, hence making it the sheer winner of this section.
Ease of Usage (IncFile vs LegalZoom)
Ease of use, the one section where both of the companies stand equal. Both of them tend to provide the customer with easy to understand well-explained websites which can help one save a lot of time and hassle. Although, there is one drawback to LegalZoom as it slowly puts its customers through add ons, which can be a lot expensive sometimes.
Incfile also tends to include add ons, but they are not nearly overwhelming and aggressive as that of LegalZoom.
Customer Support provided by both the companies
As a result of customer support, both are inconsistent. Although these are very large companies with an extensive support system. With providers this big, there might be some representatives more powerful as compared to others, the same implies to LegalZoom. As of IncFile's response, time can be quite long. As of the wait time, it can exceed 24 hours to get a response at times.
Whereas, LegalZoom has extended customer service hours which can be pretty convenient as one doesn't have to miss or interrupt their business days to contact them. Their availability timings are from 8 am to 10 pm ET every weekday, and 10 am to 7 pm ET on weekends. Whereas IncFile support reps availability timings are from 10 am to 7 pm ET on weekdays, and the weekends are generally an off for the company.
Order Tracking section
This is the section that explains the order tracking services. As of both the companies, they do provide the services of online tracking, using which one can see the live-status and updates about his/her order. Although IncFile's tools are a bit Flashier, both are perfectly functional.
Therefore, the above context explains the head to head comparison between IncFile and LegalZoom based on different aspects they two offer and the price offered by both the companies.
Which one is a better deal?
Well, to answer this, one might not be able to find a better deal than IncFile when everything comes to the aspect of pricing. It is because IncFile offers best prices deals to its customers than that of LegalZoom, And that too on the plus side, IncFile tends to offer a large number of affordable features to its customers making it be the best overall services available online.
But, if we consider LegalZoom, though the price is set to be pretty hefty, remember that you'll be working with a bit more established and a higher brand recognition company, which might play as an advantage in most of the cases. Although there are better deals always available out there other than LegalZoom, again, in the end, it all comes down to the preferences and personal choices.
Rating Section (IncFile vs LegalZoom)
Well, since most of the side by side comparison has been stated in the context above, we have allocated a full overview rating chart in order, to sum up, the comparison of both the LLC forming companies. Remember, stated below rating is just to help people understand how the 2 companies stand in their particular field and give you a rough idea which one among the 2 is better, but once again keep in mind, that in the end, it is always about the preferences.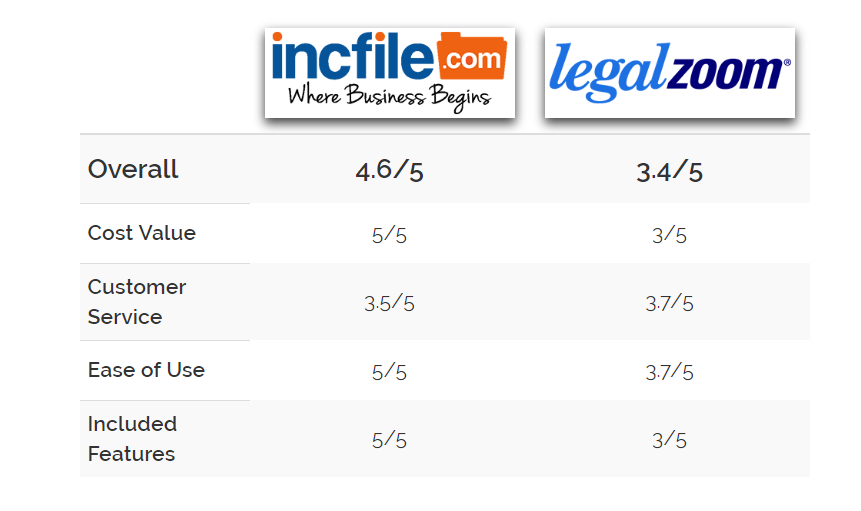 Plans offered comparison
Both IncFile and LegalZoom tend to provide their users with way more services than simply forming your LLC. Hence, one can purchase some of the features independently, which tend to offer users, even more, pricing flexibility. Therefore, stated below is the full side by side comparison of the basic packages and the features provided by both the companies and which are pretty useful for forming an LLC.
Basic Plan Comparison Chart
Below is the basic plan comparison chart which tends to show how the 2 companies differ from each other when it comes to providing their Basic plans. Therefore, the chart is as follows:
Middle Plan Comparison Chart
This consist of the Middle plans offered by both the companies, Hence the chart is as follows:
Top Plan Comparison Chart
Provided below is the comparison chart of the Top plans offered by both IncFile and LegalZoom.
Final Thoughts
The online legal services like IncFile and LegalZoom, are the available options for small business owners to help them resolve some straightforward legal issues and that too without them having to hire an attorney. Since hiring the attorney can sometimes be too expensive for small business owners. Also, using online legal services can help people save a lot of time and hassle of arranging the documents and filing them regarding legal issues.
As for the conclusion of the article, IncFile is the sheer winner of the comparison since it offers a lot of features at a reasonable price. And that too has received a lot of positive reviews and hence excels LegalZoom in most of the section. Although keep in mind the comparison is strictly for the people to understand the 2 companies and features provided by them to their customers, and based on that they can choose the one which suits them the best according to their needs.
Note: It is suggested for people to use LegalZoom if they want to use the most well-known service available in the online legal services market whereas they can opt for IncFile if they want better prices and more features.