Emojis are a new way of expressing our feelings and emotions. Every mobile operating system has its own collection of emojis. For example, the iPhone emojis are way different from Android emojis. Android emojis are a little bit dull in comparison to iPhone emojis. If you want to download and use iPhone emojis for Android devices, then you're on the right page.
So let's dive into the article!
Why Get iPhone Emojis For Android Devices?
While both the Android and iOS operating system improving their emojis collection day by day. The symbol of emojis for Android and iOS are the same because they are approved by Unicode authorities. But both iPhone and Android designers give them different looks to emojis. Have you ever noticed that Android emojis are a little bit less expressive while the great look of iPhone emojis makes them stand apart from the crowd? Also if you've recently switched from iOS to Android platform then also Android emojis will not make you feel comfortable. These are all the possible reasons to get iOS emojis on Android.
How To Get iOS Emojis For Android Without Root:-
Here is the list of some quick steps that go through them and start using iOS emojis on Android.
1. Enable Installation From Unknown Sources:-
You need to install some applications on your Android smartphone from third-party sources. To install them you need to enable installation from unknown sources. Here is how you can enable installation from third-party sources:-
Open Settings on your phone and click on Security.
Under the Security tab locate Unknown Sources and enable it.
2. Download Emoji Font 3 Application:-
Emoji Font 3 has a great collection of emojis. But due to some copyright issues, Emoji Font 3 app is not available on the Google Play Store, still, you can download it from third-party sources. So download this app from below given link.
Click here to download Emoji Font 3 app
The best thing about Emoji Font 3 application that you don't need to install any keyboard on your Android phone to enjoy Emoji Font 3 application's emoji collections. You just need to set this as your system font and all they will display emojis on your app and keyboards. To successfully apply the new font style you sometimes need to restart your smartphone.
3. Change Font Style To Emoji Font 3:-
As I have said earlier that you need to change your system font to Emoji font 3. Here are the steps on how you can do this go through them and change the font style.
Head to Settings on Android smartphone.
Click on the Display option and scroll down for Font style.
Tap on the Font Style and choose Emoji Font 3.
That's how you can get all your favorite iPhone emojis for Android. But if you haven't find Emoji font 3 your cup of tea then we've some more suggestions of amazing emojis applications.
Best iPhone Emojis Apps for Android
Below is the list of some best emoji font's available on Google Play Store.
1. W2 Emoji Changer:-
W2 Emoji Changer is a superb and amazing emoji font app. It has a great collection of emojis that will make you more expressive. W2 Emoji Changer can work without rooting. It supports more than 1600 emojis that are quite enough to express all your moods.
2. Memoji Apple Stickers:-
Memoji has a great collection of iPhone WhatsApp emojis. All the emojis supported by Apple iOS 13 are also available in Memoji. Memoji follows simple to use approach. Download this app and click on Add To WhatsApp. Now open the WhatsApp and start making people amazing by sharing your thoughts in the form of emojis.
3. Textra Emoji:-
Textra Emoji has great utilized iOS apps. It has a collection of more than 3000 iOS styled emojis. Access its collection by clicking on the plus icon.
4. Phone X Emoji Keyboard:-
Phone X will make your keyboard more beautiful and fancy. If you're looking for a Keyboard to make your Android appearance like iOS device then Phone X is the best choice for you. You will definitely love its iPhone 8 emoji collection. Phone X is available on Google Play Store and free to download. It also supports auto-correction so all your mistakes will automatically get corrected.
5. OS X Laser Keyboard:-
OS X has a great collection of cool fonts and fun emojis. This will make your phone more stylish than you ever have. The typing experience with OS X is going to be more fantastic due to its amazing features like gesture typing, auto-correction, sticker suggestion. Don't you think OS X worths a try? if yes then, please download it from the Play Store.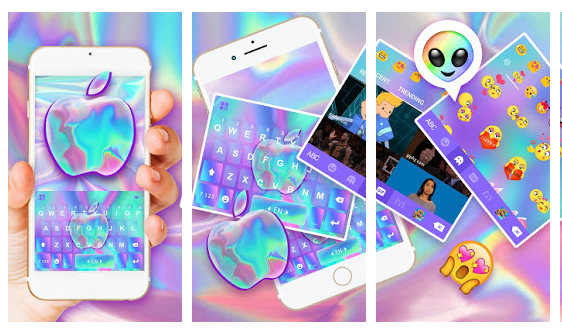 6. Emoji Phone X:-
Emoji Phone X is a clear and professional emoji keyboard. If you love iPhone appearances then definitely Emoji Phone X worth a try.
7. Black Phone 11 Keyboard:-
Black Phone is a great theme to personalize your Android experience like the iPhone. It has a great collection of themes so you never get bored while using this keyboard. It has a collection of around 3000 plus themes and you can create your own theme using DIY. Black Phone also supports more than 150 languages so you type in your native language.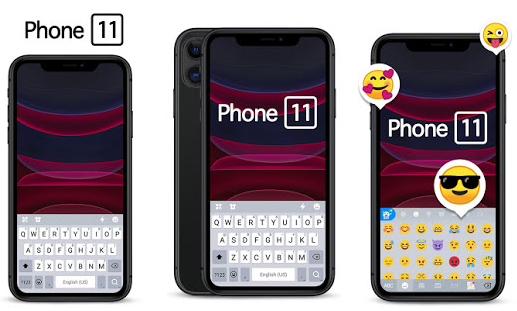 Top 7 Best Emoji Font And Keyboards for Android
Here is the list of some best emoji font and keyboards:-
Conclusion:-
So that's how you download and use iPhone emojis for Android devices. We've covered all the possible methods to get iOS emoji on Android. If you found our article then please let us know using our comment section. Thanks for giving us your time.