Many of us use the free streaming services of the Kodi app. It tends to provide us users with many different types of quality content. Including our favorite TV shows, movies and many more for free. Therefore, Watching things on these types of services also can come with errors and problems. One such problem of the famous Kodi app is Olpair. In other words, known as openload error. This error generally generates when a user opens the stream from sources like Olpair(Openload). It is generally carried out by site asking for pairing to allow the playback from their stream.
Therefore, these are generally created from a handful of sources but can turn out to be a bit annoying. Hence in this article, I'll guide you through the different steps to overcome the error and continue streaming without interruptions.
Reasons for Olpair (Openload) error to occur
The main thing is that the pairing request is not an error at all. It is misconceived for an error. Although it's just a prerequisite by the openload sources to let you stream the data from it. In simpler words, it only occurs when a stream needs to be authorized for viewing. Since openload sources tend to offer high-quality content including movies and tv shows for free through the Kodi app. Due to providing such high-quality content, they tend to receive thousands of connection requests from bots and other illegal software. Therefore it provides an olpair request to users to confirm that the stream data is received by a real human. Hence the olpair error is a gate used by the servers to confirm that you're a human. And only allow the content to stream once verified.
Therefore, below are some of the methods that can resolve the issues of the olpair pairing error. hence I would personally recommend this method for better viewing and streaming experience. But if you don't want to stream from selected servers then follow another method stated below.
1st Method: Pairing with IP address
This method is one of the best methods one can use to stop viewing the pair error. It requires one to pair their network IP address to servers and all the device viewing Kodi pairing error messages while connected to the same network. Stops receiving pair error. One of the drawbacks is that one has to pair again after 4 hours since pairing through IP address connections are only stable for 4 hours.
Note: One of the most important things to consider is that pairing with your IP address exposes your original IP address to the content provider. For that not to happen, one should generally use VPN services before pairing.  These services allow the user to pair with the content provider through different IP addresses. Making him and his activities anonymous.
Hence Method of pairing through IP address is as follows:
Step 1: The message like below appears whenever a streaming service requires openload authorization.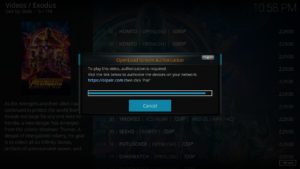 Step 2: Next, go to the openload site through the provided link from a PC or mobile device. https://olpair.com
Step 3: Now, click the checkbox reading I'm, not a robot.
Step 4: Now some images verification will show up. Kindly verify by selecting the suitable images.
Step 5: A green checkmark will appear beside I'm not a robot text. Hence indicating verification was successful. Now simply click the pair button on the screen.
Step 6: therefore, once pairing is successful. you'll receive a message saying " Pairing Successful".
Step 7: That's it you're done with the IP address pairing process. Now simply head back to Kodi and watch the stream without interruptions. But make sure to pair again every 4 hours.
Therefore, the above method explains the Olpair error fix on the Kodi app for streaming authorization from the openload source. Hence the above methods explain about pairing your IP address for connection and allowance of streaming services. Which includes movies, TV shows and many more.
2nd Method: Disabling the Hosters within the Kodi App:
The next up process saves you from the above process of pairing your IP address to the openload source. But in return, one will miss out on some high-quality content and even tends to not get some add ons provided on some of the streams provided by openload.
Keep in mind that there are no universal settings for disabling captchas hosters for all add-ons in Kodi. Hence one has to do it individually for all add-ons in Kodi.
Therefore below are some of the steps to carry out this method to fix Olpair error in the Kodi app.
Step 1: Simply navigate in the Kodi app home screen and open Add-ons from videos Add-ons. Add-ons > Video addons
Step 2: Scroll down until you see Tools. Simply click on tools.
Step 3: Now open the option of Settings: Playback from the provided options.
Step 4: Now make sure the playback option is selected. After that simply scroll down in the files hosting filters and disable the "Hosters with Captchas" simply by toggling the switch in front of it.
Step 5: That's that, for disabling the Hosters with captchas for add-ons.
Therefore the above steps tend to disable the captcha verification for openload source. Hence, in other words, one doesn't have to pair with an openload source anymore. As he can now simply click and stream the desired video without any olpair error following back.
But make sure one needs to disable hosters with captchas for individual add-ons. And in this method, many services may not seem to work since its just a bypass method to overcome the olpair error.
In conclusion of the article, The above two methods explain on fixing the olpair error while streaming in the Kodi app. Also, keep in mind to use VPN services while streaming as it tends to bypass ISP throttling, Government Surveillance, and geo-restriction on popular Add-ons. That's it for this article. Enjoy your Kodi viewing experience without any olpair error interruptions.