Roblox is a hugely popular platform for games. It has a massive collection of online games ranging from various genres. Among several other immersive 3D games, it has a unique and terrifying collection of scary Roblox games. This over the years has emerged as the most popular genre. So, if you are on the lookout, today's article is about the 10 Best Horror Games on Roblox in 2022. These games will send chills down your spine.
From single-player to multiplayer games comprising of 20 people, these frightful Roblox games check all the boxes. In today's article, we will find out about these Roblox games and what makes them so terrifying.
10 Best Scary Roblox Games with Jump Scares & Spooky Gameplay
Scary games on Roblox are one of the most popular types of games that people love playing with their friends. Some users even prefer playing them alone. These games are able to freak anyone, whether a child, teenager, or a complete adult. Roblox features some scary games that have terrifying visuals, haunting sounds, and a very frightening storyline. If you enjoy playing horror games, we have a complete list of titles that you must try.
Out of all the scary games on Roblox, we have handpicked the 10 most truly horrifying ones. You can start playing these to have a real spooky experience on Roblox. However, I wouldn't recommend soft-hearted people to try any of these.
1. Alone in a Dark House
It's a classic spooky, dramatic horror game where a private investigator visits a small town to investigate a cold-blooded murder case and as his investigation proceeds, he discovers some dark underlying secrets about a family and encounters ghosts and paranormal enemies. This game is quite popular among the community with interesting plots with scary visuals.
Features:
This game can be played with up to 20 players at once and you won't be alone.

To add a competitive twist, players can earn different badges depending on the level of difficulty. The most prestigious being Grandmaster.
2. Bear Alpha
Bear Alpha is one of the scariest multiplayer Roblox games. Basically, it's a 10 player survival game, where one player is randomly selected as a bear and the bear's task is to hunt and kill the other nine within 5 minutes. The survivors can defend themselves by using weapons that are to be searched thoroughly throughout the large map quickly as the bear is very agile.

Features:
The app has frequent updates so you can expect the addition of new maps. 

An ominous environment with a red accent and scary music tracks in the background make the game spooky.
3. Dead Silence
This is a thriller-packed game for players who are interested in gore, action, and violence. The game contains a wide array of challenges and situations and you may encounter odds. It is similar to the horror movie Dead Silence.
The game offers you multiple modes, you have the option to play with friends and  And enjoy the game to the fullest. Another model offers you a collection of scary short stories. There is a  survival mode that offers barebones resources. Players have to remain alive for the longest time.
Features:
It offers a First-Person Perspective (FPP) mode wherein players can play along with 4 other players. 

It has 15 jump scares (4 major, 11 minor) in the game with an overall jump scare rating of 4.0.
4. Horror Elevator
Horror elevator as the name goes offers is an elevator game where the elevator is stopped at a random floor on its way to the top, wherein each floor is filled with different horror scenarios. New killers are frequently added which keeps the game engaging.
It's a perfect game for someone who likes to explore and experience an adventure type of horror.
Features:
There are a total of 24 floors with the difficulty level rising at each passing floor.

The game can accommodate up to 10 players at once.
5. Murder Mystery 2
It is a horror game for players who aren't scared by paranormal activities. In this game, a player can either be a Sheriff, Innocent, or a Murderer. The task of Innocents and Sheriff is to track down the murderer before he finds and kills them all. This game has different maps, you can enjoy different settings each time while solving the murder mystery.
Features:
The server can accommodate up to 12 players which include one murderer, one sheriff, and ten innocent at most.

It contains three modes: Casual, Hardcore, and Assassin. These modes can be switched at any given time by the player.
6. Nightmare Mines
The game presents a set in which there is a mining community being invaded by zombies, who ironically were once miners but turned into these creatures now hungry to eat the brains. Your task is to stop them from expanding and discover a path to escape this place calmly.
Features:
The server can accommodate up to eight players where you face hordes of zombies.

It shortens the gap between Roblox and Minecraft by providing its high visual graphics
7. Zombie Rush
This Scary Roblox game is about zombie war. This is very much similar to Nightmare Mine, Zombie Rush as the name suggests it puts players against hordes of zombies. It's a game of survival, where the player is tasked to survive till the end by using his weapons against the zombies. You'll be rewarded extra EXP for a headshot as it results in more damages.
It's quite an exciting game you get to shoot zombies and enjoy with friends. Players will lose health if the zombie attacks them.

Features:
It has a leveling system and also records the kill counts
It enables the unlocking of some weapons based on kill count along with the level upgrading.
8. Before the Dawn 2
This scary Roblox game is a perfect combination of spooky sounds and gameplay that creates a unique Roblox experience. It comes with a sequel. The graphics are very animating and provide an enjoyable experience. It is quite enjoyable for those who love to play solo games and up to 8 people.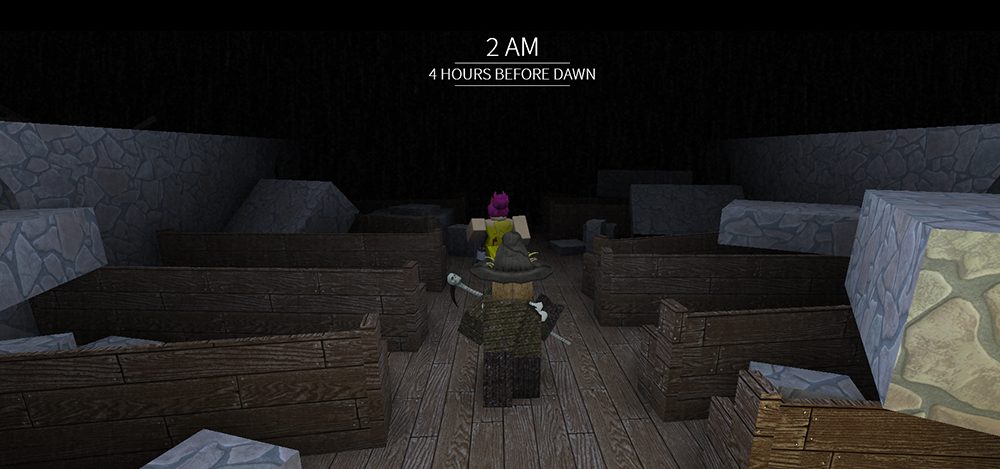 Features:
It brings an immersive environment, like rolling fog covering the map floors, blizzards, mixing particles with the lighting to make it more difficult for the players to see far in the night.

It is a multiplayer game in which players play either as survivors (survives until the dawn), heroes, or slashers. 
9. The Haunted Imperial Hotel
This game takes you on an adventure into a haunted hotel that is spooky and full of terror, enemies, and traps. It is indeed a fun experience to play with but doesn't offer replayability.
10. The Mirror
It is a single-player psychological horror game. It is designed to simulate strange-face-in-the-mirror-illusion. The game begins when you dim the lights in the room. You will hear scary background noises and see disturbing visuals.
Wrapping Up
In this article, we have highlighted all the top 10 Best Scary Roblox Games in 2022 after thorough research. These games will certainly fulfill your appetite for playing scary games. Some will make you jump out of your chair while the others will make you clutch the most tighter. Make sure you don't play them alone at night.
Well, that's about it from our side. Hopefully, this article has covered all the games required.
Go ahead and play the app which excites you the most. Comment down below and let us know which games scared you the most.