Looking for a Teamviewer alternative software for Windows or Mac? In this article, we have listed down 19 Free and Best Teamviewer alternatives that you can start using for your personal or commercial purposes.
Teamviewer is a patented software which enables you to work virtually,  due to the presence of some authentic features like online web conference, file transfer between different computers, remote data control.
But due to the involvement of massive issues like complex security set-up, taking a subscription for the business day to day purpose. For the beginners, it's not a lucid program to start up with, so the people often look out for the Teamviewer alternatives. So, there are listed a number of alternatives which can be used instead of Teamviewer software, in this article.
19 Best TeamViewer Alternatives
Here is a list of most effective Teamviewer alternatives for Windows and Mac :
AnyDesk
Mikogo
UltraVNC
VNA Connect
Ammyy Admin
ThinVNC
LogMeIn
join.me
Microsoft Remote Desktop
Chrome Remote Support
Tight VNC
Bomgar
GoToMeeting
eHorus
Koding
ThinLinc
Lite Manager
Splashtop Remote Support
RemotePC
So, let's discuss the following details, processes, boon, and curses of some of the above-mentioned TeamViewer alternatives.
1. AnyDesk:
Basically, it is the top reviewed substitute for the one, who is looking out for the TeamViewer alternatives. It allows speedy file transfer remotely. It works in Windows, MacOS, FreeBSD, Linux, Android, iOS, Raspberry Pi. This application has a well-encrypted system. Well, the plus point of this application is that image and graphics management can also be controlled remotely without reducing the image quality. Get AnyDesk
Boon:
It's available as totally free software.
It only allows access to identified entities.
Fast data transmission
Light-weighted program
Curse:
Due to access over abandoned computer machines, there is a chance of scams.
Bugs may be figured out.
2. Mikogo:
It's a paid software application software with high security and encryptions. It is used for screen sharing, web conference, data transfers with other clients keeping their ideology secured. However, for beginners, the application gives you a free trial of 14 days. After that for further use, you have to take a subscription for that. Security, Encryption, Customization, and Collaboration are the specific features of Mikogo. Whiteboard is the emphasizing feature which allows other partners to screen-sharing along with some outstanding characters like allowing to share some specific terms and at the same time keeping other things concealed. Get Mikogo
Boon:
High security and well encrypted
Easily browsed via different devices, no specific downloading and installing required.
Screen-sharing recording feature is accessible.
Curse:
Requires premium plans to be purchased to enjoy specific features like wide connections.
It allows access to a maximum of 25 users at a time.
Complex technology.
3. LogMeIn:
It is paid teamviewer alternative which requires premium plans to be accessible. But, nevertheless, it's not as sophisticated as other applications because it has simple technologies with high encryption which attracts the users to use. It is accessible via Windows, macOS, iOS, browsers. It is well encrypted with high securities like SSL, TLS. In order to get verified to the server, one has to use specific passkeys. Get LogMeIn
Boon:
Cloud Space present.
High encrypted system.
Curse:
Online web conference unavailable
No free versions are available.
4. Join.me:
It's basically free software application but for the advanced features, it requires payments. Basically, it allows web conference, data sharing, VoIP as well as screen sharing. Further, the advanced features include inviting more than 10 participants up to a maximum number of 200, in addition to this it also has an automated archived list of previous meetings as well as it has a feature of creating whiteboards which are of great importance. Besides this, it has great Cloud storage for recording web conferencing sessions. Get join.me
Boon:
Simple management system.
Well developed encryption.
Curse:
5. Ammyy Admin:
It's a totally free software application which enables free remote desktop sharing. You can easily manage network computers and servers remotely without complicated NAT settings which saves your worthy time. It has well-developed data transfer security as well as it doesn't need any installation and can be easily reached via Browsers. It has specific ID keys for the clients in collaboration which make Ammyy Admin highly encrypted. It works behind the NAT means that you are easily accessible to a remote machine from any other PC that is connected to the Internet. Beside business, it can also be used for personal content like Voice-chats. Get Ammyy Admin
Boon:
High-security data transfer.
Versatile Management.
Requires no installation as well as totally free to access.
Curse:
Requires very fast Internet connection.
It only supports Window system.
6. Splashtop remote Support:
It is a freemium type of software application. It is well developed, reliable, highly-secured, and easy to deploy software application. It is well encrypted with TLS and 256 bit AES encryption. It enables users to connect to and control computers from desktop or other mobile devices. It is also inexpensive in use as well as highly secured, therefore a good alternative for TeamViewer. It allows you to connect with other users via unique 9 digits code. It is accessible via a Web Browser, macOS, Linux, Android, iOS. The premium package enables you to have access to local printers as well as file transmission and easily chat with the other users or partners remotely. Get Splashtop
Boon:
Easy to use.
High-quality videos and images.
Highly encrypted via TLS and 256-bit AES encryption.
Curse:
Free for personal use but requires payment for running business plans.
High CPU consumption.
7. Chrome remote Support: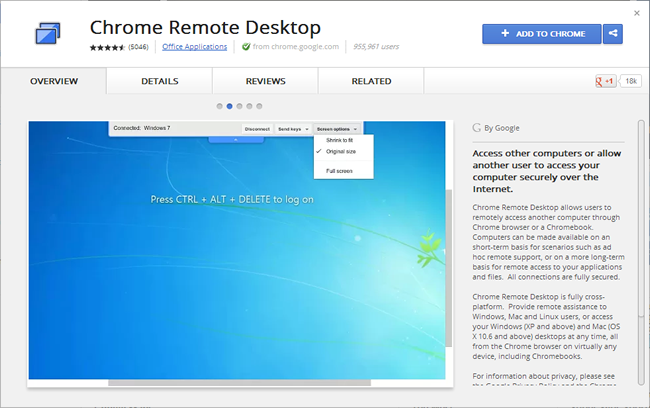 It is basically a free software application. It allows users to connect and access other PC remotely via Chrome Browsers. It is quite an easy alternative to TeamViewer compared to others. It is simple to use, all you need is to have a Google Chrome application on your computer and account, and you are ready to use. Remember, there are specific versions available for Android and iOS. There is no web-conferencing or screen sharing features in this application. Working platform for this application is Windows, Linux, macOS computers. Get Chrome Remote Desktop
Boon:
Easy and free to download and use.
Can be used in different computers or different software packages.
Keeps on updating.
Curse:
It is only accessible via Google Chrome Browsers.
Web-conferencing is not available.
8. Bomgar:
It is a premium software application. Bomgar allows the technicians to connect remotely to the end-users system through the firewalls from their PC and mobile devices. It is easily accessible via Windows, macOS, Linux, Android. Comparing to other alternatives, no application is as secured as Bomgar. It has compartmentation of the data of users, it never gets mingled up with other users. All the data credentials are highly secured but there is a chance of breaching if passwords are not audited, managed or handled carefully. Get Bomgar
Boon:
Highly secured and encrypted.
Accessible to the major operating system.
Curse:
Chance of breaching, if carefully not maintained.
Quite expensive.
It is quite sophisticated to use.
Conclusion:
So this was all about Teamviewer alternatives for Windows and Mac. The list includes many free teamviewer alternatives along with some premium softwares. If you are still in doubt, kindly comment down your queries, and we will be available with a satisfying answer to your question.