In this post, we are going to talk about WhatsApp++ and will also share a method to download whatsapp++ IPA For iOS devices but before that let considers WhatsApp's featured for a bit. First off, the thing is this tweaked version of WhatsApp is completely free. And to add to that there is no international charge either. That means that it doesn't matter where the other party is, provided that you both have a decent internet connection. Apart from texts, you can send photos, videos, voice messages, contacts and even live locations. You also get free calls and free video calls. You can have groups of about 250 members and this all comes with the fact that you don't need to burden yourself with usernames and pins.
What is WhatsApp++?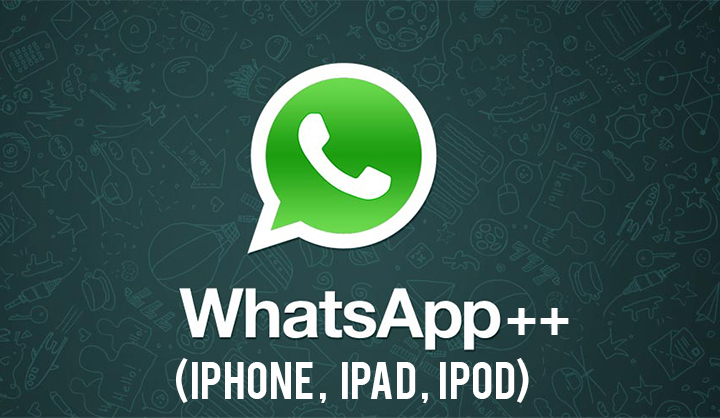 You can say that WhatsApp++ is a custom version of WhatsApp that was tweaked and modified to give it some extra features. It is meant for iPhone and iPad users. No doubt WhatsApp is also very useful but still have some downs. Over at the Android platform, several alternative versions of the app have been released in the Apk format. This helps Android users to unveil some of the features of the app and increase its user-friendliness.
But at the other end, iPhone users have not been so lucky. No hacked version of the app was released considering iPhone users. Because of this, they have not been able to reap any of the benefits that such a version of the app provides. This was the reason why WhatsApp++ for iOS was released. Without further discussion, let's take a look at what is WhatsApp plus IPA and some of the features of WhatsApp++ on iPhone & iPad.
Read – How to Install Cydia Without Jailbreak
Features of WhatsApp++
First off, you can customize the aesthetic appearance according to your wishes. It might necessarily need to be green and white.
Tired of WhatsApp cropping that darn good DP of yours? Well, in WhatsApp++ your profile pic won't get cropped.
The number of media you can send at a time is not limited to 10. That's something really useful.
For the lazier of the folks reading this, you don't need to touch and hold to send a voice message. Only touching tapping the mic icon is enough.
You can lock WhatsApp with Touch ID or passcode.
You can hide your online and last seen status from your contacts.
You can read a message without the person who sent the message getting blue ticks. You just gotta disable read receipts.
You can disable it for specific contacts.
How to Download WhatsApp++ IPA for iOS?
Before downloading WhatsApp++ for iOS, you need to uninstall the basic version of WhatsApp from your device. Now, let's see how to install WhatsApp++ for iOS device.
Solution 1: Install WhatsApp++ on iOS without Jailbreak
For this method to work you will need to download some third-party apps. Third-party apps are the apps that are created neither by the users nor by the developers.
First and foremost, you will need to download a third-party app called TweakBox on iPhone or iPad.
You can do this using the Safari browser and searching for tweakbox.
Click on the suitable search result and wail for the TweakBox site to load.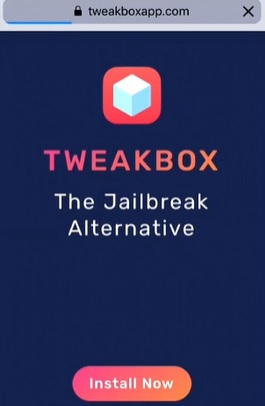 Hit the Download App button, after making sure that the page has completely loaded.
Now on the page that appears, hit the Install button.
This will cause a Pop-up warning to occur. Hit Install again, which is on the top right corner of the screen.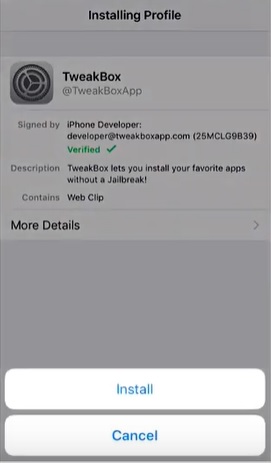 Now you have to select Done from the profile installed page in order to complete the installation process successfully.
After this, you will find TweakBox App waiting for you on the homepage.
(You can download TweakBox through an alternate method if you wish.)
Go to the Apps Section, after opening tweakbox.
Select the Tweaked Apps category form the apps section. This has the tweaked version of several apps.
Now, use the search bar to look for Whatsapp++ and click it. You will automatically get to the installation page on doing this.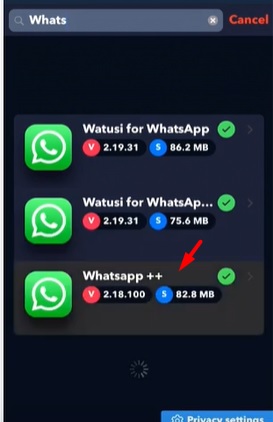 Now locate the Install option and choose it.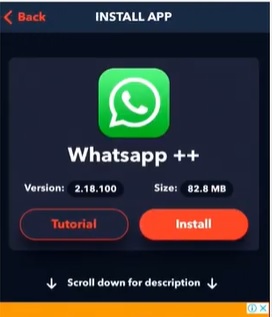 Now, you will be faced with a pop-up screen. Simply hit the Install option again.
The last step will effectively begin the installation process and you can just wait for it to complete.
After it is done, you can find WhatsApp++ on your home screen. Open it and enjoy.
Read – Install Pokemon Go++ on iOS
Solution 2: Install WhatsApp++ IPA for iOS Using Cydia Impactor
For this, you will need to download a Whatsapp++ IPA file. This file is a type of file extension in iOS that holds various pieces of data. Cydia Impactor is a tool that is used to install IPA files on iOS and APK files on Android. Also, for this method to word a decently performing data cable is required.
To proceed, follow the steps below:
Firstly Download WhatsApp++ IPA file from here
After that proceed to download a version of Cydia Impactor that is compatible with your PC or Mac.
You can download Cydia impactor from www.cydiaimpactor.com
After this, the USB cable comes into play. Use it to connect your device to your PC.
After making a safe connection, run Cydia impactor.
For the next step, locate the IPA file of WhatsApp++ and drag it to the small window of Cydia Impactor.
Now, you will be asked to present your Apple ID and password to sign the IPA file. You can always create an alternate Apple ID if you don't wish to use your real one.
Now, the installation process of WhatsApp++ IPA will start.
After the process completes WhatsApp++ will be available on your home screen.
Conclusion
WhatsApp is a very useful and popular app but it has certain drawbacks. In the Android platform, users enjoyed extra features with the help of hacked versions of the App. WhatsApp++ was introduced to provide iOS users with the same privilege. In this article, we have talked about WhatsApp++ and its features. We have also talked about the ways to install whatsapp++ iPA on an iOS device.