Download the latest and Updated Miro Clash APK which is according to many is one of the best private server of Clash of Clans for a long time. MiroClash is the first server to introduce Town Hall 12 with all the new features and is very fast and efficient at providing updates.
In this article we will see the features of Miro Clash and how to download Miro Clash of Clans Apk for free.
What is Miro Clash Server?
Miro Clash is one of the best private servers of Clash of Clans with lots of mods which will definitely save you time and effort but also will give the same enjoyment as the original Clash of Clans.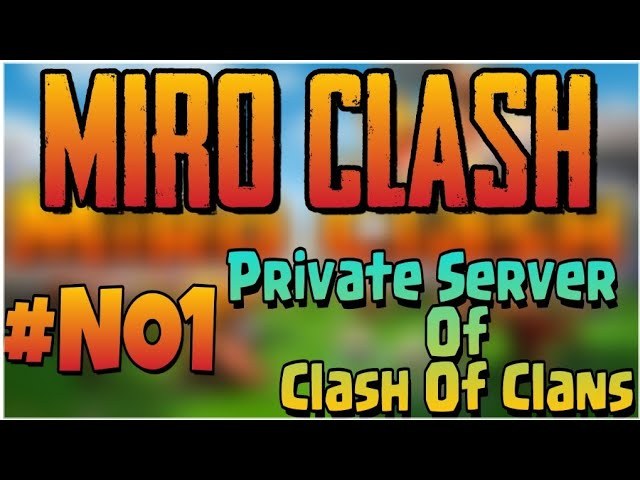 It is one of the most downloaded private servers of Coc, thanks to its well optimisation and super-fast servers for smooth gameplay.
Features of MiroClash
Unlimited Dark Elixir
Unlimited Gold
Unlimited Gems
No cooldown for heroes
Heroes can be used during cooldown
Troops can be maxed from beginning
Safe Servers
No time for building resources
System requirements for Miro Clash
Android devices with OS 4.0.3 or later.
A recommended resolution of 800 x 480 or higher.
A minimumof 512 MB of RAM.
An internet connection, either mobile data or Wi-Fi
Additionally, some permissions are required by the app to function properly which includes
Network Information
Location
Device Identity
Miro Clash APK Download for Android
Here are the complete steps to Download Miro Clash APK file.
Go to your phone Settings
Got to security inside settings
Under 'Unknown Sources' option select Allow installation of apps from unknown sources
Delete the original Clash of Clans game if installed (Check if your account is attached to your google account before uninstalling or else you may lose data permanently)
Now download Miro Clash APK File (~90 mb). Link: https://www.mediafire.com/file/ylu84xw2eoge0o2/december2018.apk/file
After downloading click on your downloads folder and install it as a normal apk.
Now open the game and enjoy the tons of features offered by Miro Clash
MiroClash for iOS without Jailbreak
You can also Download Miro Clash for IOS. Here are the steps.
For this process a Pc or Laptop is needed for installation
Now Download the IPA file from here: https://drive.google.com/uc?id=1gNSpUHnPa6ma6gzcIr6HkWefKK5Db3nX&export=download
Download Cydia Cloud on your computer using the link given below
Connect your device with the Computer using an USB Cable
Open the Cydia on your computer and select your device from the dropdown menu.
Copy the MiroClash IPA File using Cydia.
Enter your Apple ID and Password for verification
After Installation go to Settings then General then Profiles (or "Device Management" or "Profiles & Device Management"). Find the profile with your Apple ID and open it.
Select the trust device option
You are ready to play Miro Clash in your iPhone.
Miro Clash Download for PC
If you want to play Miro Clash in your laptop or Windows pc it is also possible. You just need an android emulator running in android version 4.0 or higher.
The advantages in playing in Pc is that you will get a big screen to play in with mouse and keyboard control precision which can be really helpful.
We recommend to download Nox which is really a lightweight and overall a good emulator.
After installing the emulator in your pc just sign in with your google account and download apk as mentioned in the above steps and boom!
You can now enjoy all the features of Miro Clash in your PC.
Questions Regarding Miro Clash Servers
Is Root needed to install Miro Clash COC Server?
No root is needed to play Miro Clash for both Android and IOS.
Is Miro Clash Safe?
Miro Clash has dedicated servers for the game and is well optimised and is 100% safe.
How much resources would I get?
You will get unlimited resources (gold, elixir, dark elixir) in Miro Clash.
Can I play Miro Clash in Pc?
You can definitely play Miro Clash in PC and the steps to install is given above.
Would I unlock the heroes?
All heroes are unlocked in default be it the Barbarian King, Archer Queen or Grand Warden.
How much gems will I get?
You will get 1000000 gems to start the game with and is enough to max out your account with.
Final Words
Miro Clash is one of the best private servers of Clash of Clans available. It is considered the best mod of Clash of Clans due to its well optimisation and high-speed servers thus you will have a smooth experience playing Miro Clash Servers.
Moreover, the Miro Clash community is very much active and thus is very fast at providing all the updates even before the original game.
So, if you want to enjoy your Clash game more this should be your choice. If you have any query do comment below.