In today's time, everyone wants to use a tweaked app, it is mainly because they tend to provide users with some extra features, which can be pay to use in some applications. TweakBox is such an app that makes it happen. It is one of the most robust application installers which allows people to install 3rd party application and games on their iOS devices. That too, one of the most sophisticated parts of the TweakBox is that it doesn't require a jailbreak to make it work, Making the TweakBox opening up to people.
This particular app installer is regularly updated with the new application as well as for the support of the new iOS versions, security patches, and fixes. The application and games available on the TweakBox are generally stock but have a few extra bits of tweaks and mods in them for them to be better and even perform better.
What is TweakBox App?
It is a mobile application installer made for iPhones, iPad, and other Apple devices. Although there aren't any Android version available, the company do suggest another 3rd party application installer for Android devices which works just as TweakBox and dosent even require a rooted device. Although for TweakBox, Installing the same on your devices will give you access to the large library of stock applications with few bits of tweaks in them followed by the apps which are not available on AppStore, such as Snapchat++, Instagram++ and many more.
The exciting thing about the TweakBox is that it dosent require Cydia for its installation. Meaning that for an individual to install TweakBox on his/her apple device, they won't have to jailbreak their devices anymore. It's a simple process and for the people who didn't want to use it in the first place because of thinking that doing the same will require jailbreak can also install to have some extra features on their iPhones.
TweakBox Features
There are several features offered by TweakBox. The main one being the no need of Cydia to install it on one's apple devices. Although other than that, the convenience of the app to install it on the device as well as its usability. Developers have kept a keen focus over making its UI pretty easy to understand as well as pretty easy to use.
They have placed all the content into four categories which the user can choose the applications to be downloaded on their devices, hence making it simple to find and downloading them on your devices.
These four categories are as follows:
This particular section consists of loads of movie apps, games, emulators and many other applications from which users can choose from and download them onto their iPhones, iPods and other Apple devices.
Apple AppStore Applications:
This section of the TweakBox app consists of all the stock apps available in the Apple AppStore, which includes tons of games and app store apps that people can choose from and download them on their Apple devices as well.
This section, in particular, carries out all the stock applications which have been tweaked in a few bits and manner and again, people can choose from them and can download them directly on their Apple devices.
As the name suggests, this section of the TweakBox categories include all the fun games moded with some mods to make them bit more interesting and fun to play, again people can simply choose from the list provided in this particular category section and can easily and directly download them on to their iPhones and iPods.
Therefore, the above is the explanation of the 4 different categories that an individual will find upon installing TweakBox application on their iPhones and other Apple devices.
Supported Devices
Below is the list of all the devices which tend to allow the installation of TweakBox application on their OS. Therefore, these are as follows:
iPhone
iPad
iPod
Android
PC and Mac
and all other Apple devices.
Note: As of right now, TweakBox is only available for Apple devices, and hence dosent have any support for the Android devices. Although, for you to use an application like TweakBox, the devs recommend the Android users to download the AC Market app as it offers the same features as that of TweakBox and is easy and free to download, followed by it doesn't require rooting of your Android device.
Is it legal to Download Tweakbox?
As for the answer to this question, yes TweakBox is fairly legal as it tends to use Apple's Enterprise Certificates which are generally bought by the developers and later on is distributed to the common users, which tends to give them the permission to download and run the unofficial apps on their devices.
These particular certificates are embedded into the TweakBox app, so once you install the TweakBox app profile on your device, you are hereby not restricted at all in downloading and running the modified games and applications on your device.
How to download and install TweakBox on iOS device
TweakBox is easy to download as well as easy to install on your iOS device. Simply follow the steps listed below to download it and install it without any difficulties and with ease.
Therefore, the steps are as follows:
1. First, simply click the "Config Profile Link" button above and wait for the page to load. Once done simply, Tap on "Allow" as shown below.
2. Once it's done, look for the link saying "install". simply tap on to it (to download the configuration profile). it works for both verified and not verified.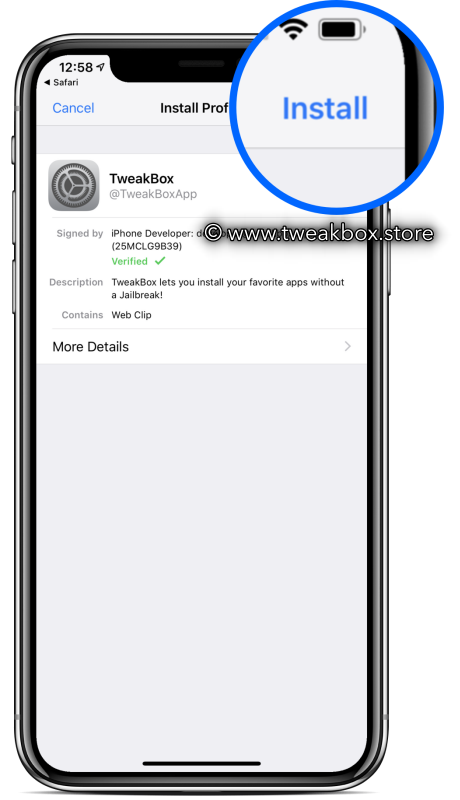 3. Now the profile page in the iOS settings app will open up, click install. You might be asked for your passcode, simply enter it and wait for the Safari browser to proceed.
4. Now tap on install again, the settings app will open once more.
5. Now, tap as the pages load, Install > Next > Done.
6. After the installation is finished, simply navigate to your home screen, you will find TweakBox app there.
7. Now simply launch the app, choose the app tabs in it, select the favored category and then simply start downloading your apps.
Facing Untrusted error
If you haven't installed any unofficial app before, you will be greeted with the untrusted error while installing TweakBox on your iOS device. To fix it, kindly follow the simple steps given below, as doing so is pretty easy and simple:
1. Open up the settings tab from your device's home screen and simply tap on the "General" option.
2. After that, tap on the Profiles & Device Management as shown below.
3. Now simply look for the app name in the profile list and tap it.
4. Next, simply tap the "Trust" button and exit back to the home screen of the device.
5. Now, open the application again, it should work without any error.
Final Thoughts
TweakBox is one of the best 3rd party application installer for iOS devices available in the market. It's easy to download and not even require jailbreaks for its installation in an iOS device makes it a choice for even those people who were hesitant before but wanted to have some tweaked and moded applications and games in their iOS-powered devices. Although, it won't function and won't be anywhere near as comprehensive and in-depth as Cydia was but for most users, it will get the job done.
Therefore, if you are looking for a safe, easy to download and install and even easy to use 3rd party application installer for your iOS device, then surely TweakBox will be your best bet for the same.