Are you looking for the best Kdrama sites in 2021 then you are in right place. If you are swept away by the Hallyu wave, you will know what Kdramas are. However, if you're new to this world of Korean dramas, you've come to the right place to get you started! Korean dramas are super addictive with their fun plot lines, high production, and stunning visuals. Once you start watching a Kdrama, I'm sure you'll get hooked on to it in no time.
Thanks to the pandemic, we all have lots of time and a steady internet connection. This is the perfect time to binge-watch old dramas like 'Boys over Flowers' or new ones like 'True Beauty'. The best experience of watching anything comes when the streaming quality is high, that applies to dramas as well.
Watching Kdramas in high quality will make you appreciate the production and cast so much more. Unfortunately, a lot of sites that have Kdramas, stream in very low quality and have tons of spammy advertisements. Don't worry, we've got you covered! Listed below are 10 amazing Kdrama sites for you.
Best Kdrama Sites in 2021
Here is a list of 10 amazing Korean drama sites where you can watch your favorite drama in high quality! You will also get fully sub-titled in English Kdramas in the sites below. Few of the sites offer subtitles in multiple languages as well.
1. Rakuten Viki
Rakuten Viki can be used to watch most Asian dramas and films. It has Korean, Taiwanese, Chinese, and Japanese shows and movies available in its library. You will be able to watch most of the content for free, however, some on-air shows will require a subscription.
These shows will be available to watch for free after 15-20 days from their release date. Having a subscription will enable you to eliminate the ads. You can also create a party and watch Kdramas virtually with your friends!
2. Netflix
Netflix is undoubtedly the most recommended Kdrama site if you are willing to spend money on the subscription. Having a friend's account is even better! You will be able to watch a lot of Kdramas and even a few popular Netflix originals like Start-Up and Kingdom.
It has a wide range of genres for you to choose from. With the help of Netflix Party, you can watch your favorite Kdrama with your friends online. Having a Netflix account will enable you to watch Chinese and Japanese dramas as well. You can watch famous movies like 'Train to Busan' as well!
3. Viu
Viu is also subscription-based like Netflix. The difference is that you can watch free content but there will be ads in between, like Viki. Having only Asian content on its site is Viu's popular selling point. You can find tons of reality shows, movies, and dramas on this Kdrama site.
This Kdrama site is also pretty famous for streaming variety shows like 'Running man' and 'All-Knowing Bros'! Find your top binge-worthy shows here.
4. Dramacool
Dramacool is a Kdrama site that has a lot of popular and not so famous shows. It has a variety of servers that let you pick your streaming quality based on your internet speed. They have all their dramas subbed in English, so you don't have to worry about not being able to understand the dialogues.
Dramacool is not subscription-based so beware of a lot of pop-ups and annoying redirects. On the other hand, you will be able to watch on-air shows for no charge at all!
5. Kissasian
Kissasian is one of the oldest Kdrama sites that offer a variety of shows for countless Kdrama enthusiasts! You will be able to find old shows such as Boys Over Flowers that released in 2009, to the newest show such as Mr. Queen that is ongoing in 2021.
You can find a huge range of movies here as well. Kissasian is not only limited to Kdramas, you'll find Chinese, Japanese, and Taiwanese shows as well. This website is also not subscription-based.
6. iFlix
iFlix is a popular streaming site in the Philippines. It is widely used for local dramas, but it has a special category for Korean dramas, as they are quite popular among the viewers. This Kdrama site is only useful if you stay in the Philippines or have a VPN that can change your address.
iFlix is subscription-based. SO if you have a subscription, you will be able to stream the content in HD quality and have no ad interruptions.
7. iQIYI
iQIYI is a Chinese streaming platform that has a gigantic library of Chinese and Korean shows and movies. It also streams reality TV shows such as 'Youth with You' in which Lisa from Blackpink is the mentor. You can find all hit Chinese and Korean shows such as 'A Love So Beautiful' and 'Backstreet Rookie.'
8. Dramago
Dramago is a website for free show streaming. You can catch fully subbed shows here of any genre. You will also be able to find a lot of shows and movies in different Asian languages. As this site does not work on a subscription model, you will have to watch out for redirects and pop-up ads.
9. Asian Crush
Asian Crush is a new Kdrama site that recently started. Even though it's a new site, there are plenty of old shows to satisfy the nostalgic viewer in you. You can watch shows like 'Secret Garden' and 'Coffee Prince' in high quality on this website. You will also be able to watch shows and movies in Chinese and Japanese.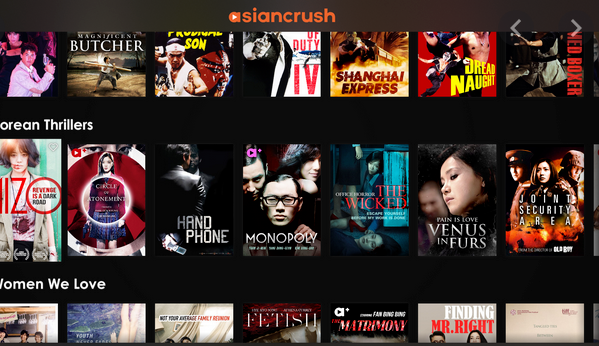 15 Free Korean Drama Sites To Watch Series Online
We all love bonus items! Here are a few more free Korean drama sites that you can go to and find your favorite drama or find more dramas to binge-watch. Check them out below!
Conclusion
We hope you've found a site to watch a Kdrama you already had in mind. If you found some K-content that caught your eye while you were checking the sites out, that's even better! Make sure your internet is stable and paid for because you will be binge-watching a lot from now on.