In this guide, we have listed the top 30 Best Jailbreak Cydia Tweaks For iOS 12. If you have already jailbroken your device then you can enjoy these awesome iOS 12 Tweaks without any hassles. Just Copy and paste the repo link in Cydia sources to enjoy these new Cydia tweaks for iOS 12. (You can also use these tweaks for iOS 12.4)
Before we begin the article let's clear a bit information about Jailbreaking. In simple and straightforward words, Jailbreaking is the process through which you can get rid of your device's restrictions that have been set up by your manufacturer, due to some reasons, in this case, Apple. Jailbreaking is a phenomenon that was a lot popular in the earlier days of Apple devices as there was a sort of need for it but in the newer devices there's much less need of Jailbreaking as the things that one used to break into the device for has slowly started coming up as official releases only.
If for some reason you have got an old iPhone in your hand or somewhere lying around your home, then make sure that you read this piece of content till the end as you will come to know some of the best iOS 12 tweaks that are also the reasons that one should definitely jailbreak his/her device. If you want to know more about jailbreaking, then you can perform a quick a Google search and a lot of amazing articles would be there for your help.
iOS 12 Tweaks (Overview)
The jailbreak for iOS 12 is now available in the market and the best part of all is that it comes with many new and advanced Cydia tweaks that are sure to make anyone go crazy over them. One of the basic and most important necessities which can't be ignored to get your device running up with iOS tweaks is the jailbreak of your device. Once you have jailbroken your iPhone, you will have access to different kinds of Cydia tweaks for iOS 12 which aren't available on the official download platform – App Store.
List of Best Cydia Tweaks for iOS 12 (Updated 2019)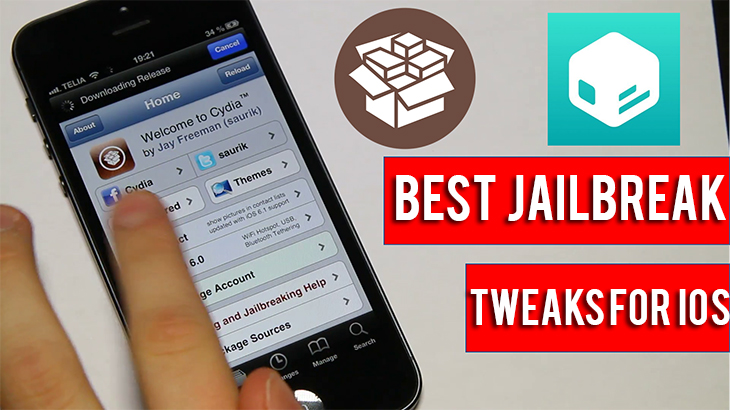 Just like in Android, we have root, in Apple devices, we have Jailbreak that basically gives access to every nook and corner of your iPhone. Many of the things that you desired for, wanted to or even never thought of, will all be possible with the help of the below-listed ios 12 jailbreak tweaks. So, without wasting any more time, let's get straight to the list of Best iOS 12 Tweaks! These Cydia tweaks are personally tested by me on my iPhone which is running on iOS 12. So All these tweaks are working fine on iOS 12.
1) AutoUnlockX
The unlocking of the phone is something that most of us do a lot of times almost every day. The iPhone X and above devices have got FaceID support but the sad part is that it doesn't directly take you to the home screen but instead lands you up on the lock screen, making it a two-step process. With the help of this ios 12 tweaks, you will be able to unlock your device using the FaceID and directly land up on the home screen in few seconds only.
2) BarMoji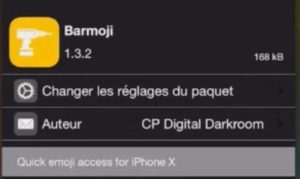 We are sure that most of you reading this out there would love to try new life hacks and this BarMoji Cydia tweak will you in doing that only. If you are a text person, then you should go for this tweak. BarMoji takes in account some of your most-used emojis and displays them in a row at the bottom of your keyboard which ultimately saves your time as you won't need to do those extra taps that you were doing till now.
3) SmartLPM
iPhone doesn't work like Android, so even for your battery life, you don't have a lot of freedom until you don't jailbreak your device. iPhone has got the Low Power Mode which is activated only when your device reaches 20% or 10%, battery power as per your settings. Plus, it gets turned off when in charge and when the battery is above 80%. The SmarLPM tweak lets you perform any customization that's anyhow related to the Low Battery Mode. We feel that this iOS 12 jailbreak Cydia tweaks is quite essential for the users who are running an older iPhone and have to spend their whole day on the same device.
4) CallDismiss
iPhone doesn't allow you to reject a call while you are using the device and you will have to wait the whole time to return to the home screen until the caller doesn't disconnect the call. Here's where CallDismiss comes to the rescue! It lets you click on the home button or lets you swipe back to your home bar while a call is ringing. It will let you transfer the call in the background without creating a disturb in your workflow.
5) BioProtectX
Apple has given freedom to the developers to include biometric protection, but the users have to still wait for it in the apps as it's a feature that's planned for future updates. By that time, users can use BioProtectX to put almost any app under biometric protection. This is a must needed a tweak for all the banking apps that update themselves only once in a while.
6) LSPullToDismiss
The notification panel has definitely been improved in iOS 12 but still if a lot of notifications land up then the system can get a bit clumsy. On top of it, erasing all the notifications at once can be a bit tricky task. To easily delete all notifications, all you have to do is get the LSPullToDismiss tweak, and pull down your Lock screen and you are good to go!
7) RealCC
At times, one may feel that the Control Centre is just for namesake as it lacks many of the essential features that it should have possessed. In case of WiFi or Bluetooth, whenever you click on the corresponding symbols in the Control Centre, the thing is not actually turned off, only the connections have been cut off. To fix this, you can get RealCC Cydia Tweaks and you will be able to control the on and off of the connections right from your Control Centre.
List of Best Cydia Tweaks for iOS 12
Launchtron
ClassicFolders2
SnowBoard
Textyle
Video HUD
Message Colors Unc0ver Tweak
Magma
Blurification
Folder Open No More
Notch Volume Hud
Cydia Installer
Cydia Weather 12 Tweak
Boxy 3
Melior iOS Tweak
color board
Don't Kill My Music
UltraSound Tweak for iOS 12 Jailbreak
Springfinity
MitsushaXI Unc0ver Tweak
Groovify
LowPower DND
Notifica Cydia Tweak
Reach It
better settings
Power Selector
Home Gesture
Cylinder
Tweak Count 2
Best Sileo Tweaks
BatchOMatic
Notifica
Silactions
ShyLabels
FluidTabs
All these iOS 12/12.4 Tweaks can be installed from their respective repositories.  So you have to get repositories sources before you install these jailbreak Tweaks on your iOS Device. Check out best Cydia Sources and Sileo Sources.
Conclusion
We hope that you liked our collection of Best iOS 12 tweaks. If you get your hands on these Best Cydia tweaks then definitely you won't even think once of going back to a non jailbroken iPhone device. If you think that we missed some great Jailbreak Cydia tweak, then why don't you let us know in the comments below.